Toyota shortens creative to lengthen reach
For its 2013 Venza campaign, the auto brand is airing three different 10-second ads during a single commercial break.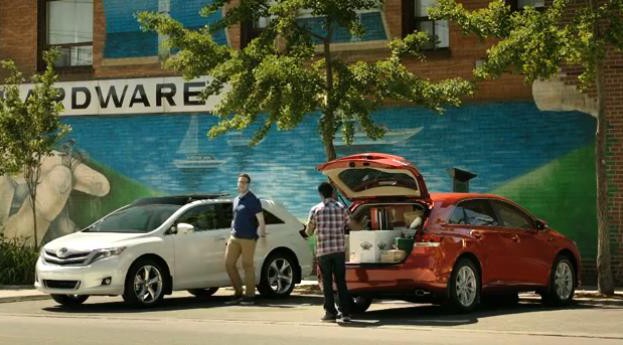 Toyota is staying clear of the conventional spot to market its new 2013 Venza. Rather than insert traditional 30-second ads between programming, the brand is making the most of its airtime by placing three 10-second spots at the start of a commercial break, mid-course and again at the end.
The strategy for its new model was to create and place eight different abrupt spots during primetime and daytime programming with the help of agency Saatchi & Saatchi (which did both the creative and media). The ads will air on channels including the CBC and CTV, during shows like America's Got Talent, The Big Bang Theory and Criminal Minds. Messaging revolves around the brand's "It's your perfect" idea and shows creative of Venza owners boasting about the car's features to others.
Prior to campaign creation, Toyota conducted research that involved taking Venza car owners out for a "ride-along" and asked them to share stories about their experience with the car. "These personal insights led us to come up with our 'It's your perfect' idea," Stephen Beatty, managing director, Toyota Canada, tells MiC. "The humour in each of the situations is actually attributable to some of the stories that our current Venza customers shared."
"We know that the more people know about Venza, the more likely they are to purchase one," adds Beatty. The TV spots convey messages of the vehicle's versatility and style, which he believes is attractive to consumers in their 40s that are ready to make the move, as their kids get older, from a "family transport type vehicle to something that is a little more reflective of their taste and sense of style."
For this campaign, Toyota has also placed print ads in national newspapers such as the Globe and Mail and the National Post, as well as in regional papers like the Toronto Star and Le Journal de Quebec. Digital includes buys on sites such as CTV.ca, The Weather Network and Discovery as well as homepage takeovers and pre-roll ads on YouTube.
"We're using media that has the ability to display visual differentiation from the competition to showcase the model's stylish updates, and [that is] easily accessible in the home and while on-the-go," he says, adding that with TV ads running on the "top, middle and bottom of the cluster, we were able to air multiple executions, and increase the effective reach and frequency of our message."