Grolsch gets app-y with TIFF and The Grid
The Torstar weekly is helping the beer brand activate its festival sponsorship with an app that curates social media feeds and provides exclusive content.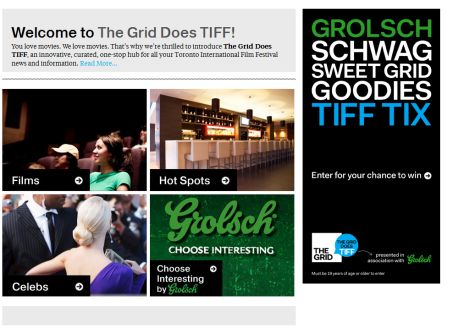 Grolsch is activating the first year of its sponsorship as the official beer of the Toronto International Film Festival with an app and microsite in partnership with free Torstar weekly, The Grid.
Laas Turnbull, publisher, The Grid, tells MiC the weekly went to the beer brand with the idea for the app fully formed, created in partnership with Blackdigital Inc., which is working with the paper on other apps of the same kind.
The app combines curated social media content with editorial from writers of The Grid about TIFF in the categories of Film, HotSpots, Celebs and "Choose Interesting by Grolsch."
Stephany Sousa, account manager, PHD, who handles media for Grolsch, says the last branded category is intended as a catch-all for interesting film fest content that doesn't fall into the other categories. And because it wouldn't be TIFF without swag, the brand is offering site visitors the chance to win things like film passes, Grolsch and Grid gear and a grand prize of two tickets to the closing night gala of the festival.
"We worked on a small print sponsorship between Grolsch and The Grid and realized that we wanted to give something of value to people that are following or involved with TIFF," she says.
The app will be promoted with ads across Torstar properties, including the Toronto Star, as well as on digital sites like Toronto Life and DineTO. In addition to the app, Grolsch is getting the word out about its TIFF sponsorship with OOH ads throughout the city, says Sousa.
Stewart Cowan, general manager, Grolsch, SABMiller, tells MiC the alignment between Grolsch and The Grid allows the brand to tap into its common target demographic of consumers aged 25 to 34.
"We are targeting charismatic personalities that are highly engaged in film and music," he says. "They are an educated target who know what they want to engage in and what they are passionate about."