The Verdict: Somersby Apple Cider's first Canadian summer
MiC speaks with Carlsberg about how marketing its new cider on female-targeted websites is panning out.
Consumers were certainly not hard-pressed to find a cider brand on shelves this season. At least three new alcoholic fruit-flavoured beverages entered Canada at the start of the summer – Alexander Keith's Original Cider in April, followed by Carlsberg's Somersby Apple Cider in May and Magners of Ireland's Magners Pear in June.
Somersby has been in the country for almost three months now, and while its importer Carlsberg has only four week's worth of click-through data from its online campaign to assess, Nick Relph, director of marketing, Carlsberg Canada, tells MiC that consumer demand is high and sales are up five times over what the brand had forecasted.
"Because the Canadian population of consumers, especially our key consumers (women 25 to 35), travel a lot, [some] were already aware of Somersby," he says, explaining that the brand received numerous requests from consumers to bring the cider to LCBO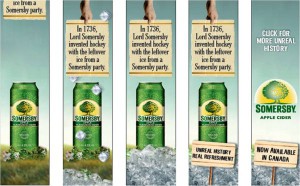 stores from its Norway origin. "The cider category growth in Canada is also trending at about plus 15%. So, it represented a clear opportunity," he adds.
At the start of July, digital ads began to appear on Shaw Media sites, specifically around content geared to women, like on Food Network Canada. Other online destinations lined with rich media ads include Grooveshark and Access Hollywood, to help the brand reach the young female audience that Relph says makes up about 70% of Somersby's customers. Both media and creative for the digital campaign were handled by Blammo.
Relph reports that thus far, the brand has seen 11,600 consumers click on the ads (where a video with the brand's tagline "Unreal History. Real Refreshment," as well as its fictional ambassador Lord Somersby, are introduced) – which equates to a rate of about 0.2%.
"Somersby was built around this concept of a sort of tongue-in-cheek approach to historical figures and historical actions or activities," he says of the online-only spots that feature an amusing take on events in the past. The 30-second videos are being housed on the Somersby Canada Facebook page and on YouTube.
"When we analyzed the group and had a look at what their consumption was in media, we found that digital was an excellent method of targeting young women," says Relph. "When you look at traditional ways of selling or promoting a new brand, it's the typical print and OOH. But in this case it was about seeding the brand and letting word-of-mouth take over. The consumer really drives the product and then we support that with digital media that really reinforces the positioning of the brand."