Spotted! Foundry Golden Cider refreshes with a taster
The recently launched Diageo-owned brand was seen sampling on the streets of Toronto with broadcast partner 102.1 The Edge.
There's another fruit-flavoured alcoholic beverage in town. Diageo's new Foundry Golden Cider entered the Canadian market last month and while it's not in stores just yet, the brand is making an effort to sample what consumers can get on draft in pubs and restaurants in the interim.
Last Friday the brand set up camp on the corner of Simcoe and Front St. in Toronto, hoping to catch the crowds making their way to the Blue Jays game at the Rogers Centre that evening. Foundry representatives, along with broadcast partner 102.1 The Edge radio station, were there to introduce pedestrians to the new cider with samples and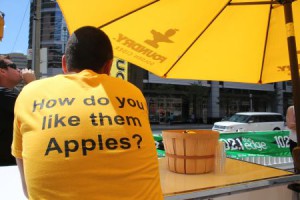 hand-outs of yellow apple-shaped stress balls hanging from the "Urban Orchards" artificial trees.
Geoff Kosar, VP marketing, Diageo, tells MiC that the decision to bring Foundry Golden Cider to Canada was made in March of this year, and the strategy was to launch it in the draft format with Diageo's restaurant and bar partners. "We wanted a fast launch," he says. "We can take it to a lot of the establishments and [supply the cider] today versus having to apply for listings with the liquor board, which generally takes a little but longer."
Kosar notes that the cider will be available in-store early next year and will be accompanied with a promotional campaign. For now, the brand has promoted Foundry sampling events with print ads placed by MediaCom with creative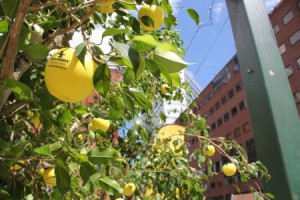 from Juniper Park in regional publications such as Toronto's The Grid and Now magazine. MediaCom also worked with Corus Entertainment to have The Edge air promotional spots and broadcast live from the brand's sampling station.
"Brand positioning is all about refreshment," says Kosar of the cider which will primarily see investment in Ontario, with British Columbia and Alberta being the brand's secondary markets. "A lot of the research shows that the target consumer is male aged 21 to 30 and they are looking for authentic brands they can resonate with. They're also looking for choice. We know a lot of consumers love to discover new brands, and we felt that there is a lot of that opportunity in the cider market."