Popping the question on Pattison Onestop screens
Pundits at MediaCom and MEC Canada share their thoughts on consumers using OOH screens to broadcast personal messages.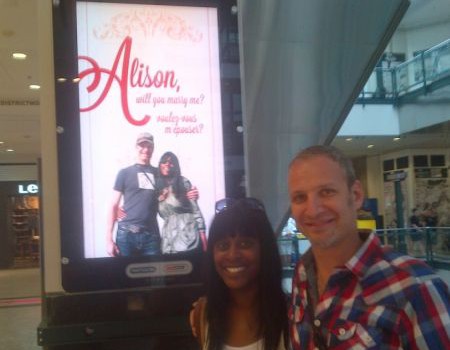 It's not the most ground-breaking way to propose marriage, given that most of us have seen it play out on a Jumbotron of a sports arena during a chick-flick or the 6 o'clock news. But Frank Bernardo of Toronto put a twist on proposing on screens when he used Pattison Onestop boards at the Montreal Eaton Centre to pop the question to his girlfriend.
Last weekend, just a couple hours before deciding to pop the question to his girlfriend, Bernardo called sales representatives to find out how to use Pattison Onestop advertising screens at the Montreal Eaton Centre. He paid less than $100, and in exchange, received a 15-second static image of him asking for her hand in marriage. The commercial was booked using the OOH media co's two-month-old online platform Ad Shop.
"I guess the thing that strikes me the most is how much it didn't surprise me that someone would think to do this," Anthony Hello, director of content, MediaCom, tells MiC. "Everybody's a broadcaster now."
At the time of the Ad Shop site launch, Michael Girgis, president at Pattison Onestop told MiC that small- to medium-size businesses were in need of a reasonably priced tool that allows them to be in the same playing field as larger businesses.
The marriage proposal is the first personal message broadcasted by a member of the general public using the platform, and Girgis says he expects to see more people chime in with their individual messages of congratulations and birthday wishes. Ads for personalized things like renting air conditioners and baby-sitting services could become a familiar sight in residential building elevators that have the screens installed, he adds.
"There are just so many channels for consumers to do their own broadcasting," says Hello. "For social media, you have to grow your own audience and it's more personal, whereas this particular consumer purchased the audience and the canvas."
Alastair Taylor, SVP, strategy and insights, MEC Canada adds to Hello's point by saying, "media is no longer the realm of just qualified professionals. Social media and user-generated content has shown that YouTube is the biggest TV station in the world."
He likens using Ad Shop for OOH buying to using Google Ad Words for digital by saying that either the client or the agency can purchase ads on the search engine. "It might raise a few questions for smaller clients who are using agencies, but I don't think it's going to cannibalize agency business much," he adds.