The Chang School eyes the September rush
Ryerson University's school for continuing education is in market with a two-pronged campaign meant to attract students from both inside and outside the GTA.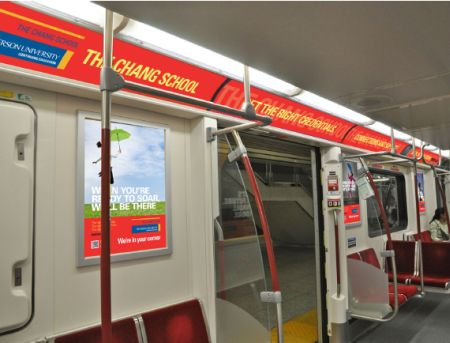 Ryerson University's The Chang School (specializing in online continuing education) has launched two very different campaigns for the end-of-summer enrollment rush.
The media and creative for each campaign differ greatly, Dr. Gervan Fearon, dean, The G. Raymond Chang School of Continuing Education, tells MiC. He says it's because the first is geared to Toronto's residents, who are mostly aware of The Chang School, while the second targets the rest of the country.
Toronto saw creative on subways, transit shelters and buses earlier this month, placed and developed in collaboration with the school's in-house marketing team and Ryan Edwards Communications. Radio ads and placements in print titles such as Metro run until the end of September, says Fearon.
The national campaign marks a first for the brand. It launched this month and ran only on buses.
"In Toronto, people are on the subway," he says. "They are standing on the platform and their imagination can go with the creative. But for the outside areas, they drive past the bus, they connect for a moment and it leaves an impression that they follow up on. We wanted to expose people across the area, but with a low intensity."
Almost a third (30%) of enrolled students at the school are from outside of the GTA, adds Fearon. The campaign is a brand introduction, but is also meant to determine which markets react best to its advertising. For this specific execution The Chang School created separate web URLs for regions including Vancouver, Calgary, Edmonton, Regina, Saskatoon and Winnipeg. "That way we have a landing page for every single marketing zone that we have, and we can track how effective our ads are by region," he explains.
The school also planned creative for two different demographics. The first focused on those between the ages of 19 and 21 looking to enter a secondary institution after completing a degree. The second targetted 25- to 55-year-olds seeking to strengthen their career, says Fearon. The imagery was developed in Toronto, with one creative featuring an executive being lifted mid-air by an umbrella and another showing a young skateboarder in mid-flight. All creative is positioned with the tagline, "When you're ready to soar, we'll be there."
In regions outside Toronto, the school has taken a different approach to creative, using images of a computer mouse and a URL to illustrate that its services are just a click-away. The tagline reads, "Distance education that puts you miles ahead."
Research conducted prior to the campaigns found increased web traffic closer to the start of the term, says Marilou Cruz, manager, marketing and communications, The Chang School. "This means our adult learners are making their decisions much later," she notes. "This is why we focus a lot of our advertising dollars at this time, moving our prospective students from consideration to commitment in the enrollment funnel."