Loto-Quebec blings it on
Flashy tactics involving music videos and protection cases for its outdoor ads are being used to drum up hype for the new 100 Million$ Extravaganza ticket.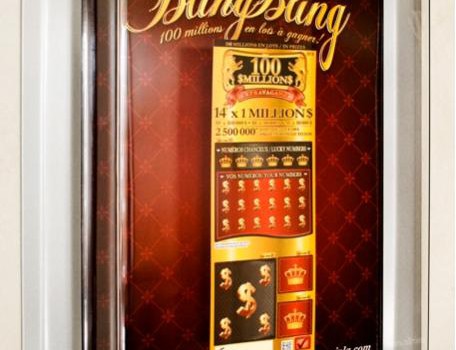 A lottery ticket painted gold and offering the chance at $100 million in prizes deserves only the flashiest of promotions. This is the thinking behind Loto-Québec's campaign for the 100 Million$ Extravaganza ticket that launched yesterday.
Media planning was handled by Carat, with Cossette handling media purchasing and Lg2 developing the creative.
The entire campaign revolves around a two-and-a-half minute parody hip-hop music video, from which a 30-second spot was created and placed on conventional and specialty channels in French Canada. Other parts of Canada will also see creative for the campaign in the form of closed captioning on channels such as CTV, CBC and Global.
Philippe Comeau, creative director, Lg2, tells MiC that the campaign plays with a "bling-bling" theme which is shown in both the music video and an outdoor advertising stunt. The latter involves the placement (using the Zoom Media network) of a single 100 Million$ Extravaganza golden ticket in a plastic enclosed case, similar to what you would see on a wall in a museum, he says. "It's almost like we're trying to protect the advertising, so we put a shield over it," he adds. "With Loto-Québec we really try to have multiple points of contact with customers, and outdoor print advertising is always a good way to show our message."
For the digital component of the campaign, there will be a one-day homepage takeover of Canoe (tomorrow) and Cyber Presse (Thursday), says Geneviève Guay, VP, digital media and brand experience, Carat. She adds that the rich media executions will also weave in the hip-hop music, with users being able to pick and choose different lyrics that come up on the page to create a new song.
"We have to be careful, because it's the lottery, so all of our media is done in a way so that we don't target young people," she says, noting that the audience for the ticket is between 35 and 54. "It's really laughing about all the things that we see on YouTube and trying to make it viral. These placements were more to drive traffic to the website and make sure that there is enough buzz early enough in the campaign."