CTV signs on for more Anger Management
The Charlie Sheen-starring show premieres in its Tuesday CTV time slot on Sept. 18.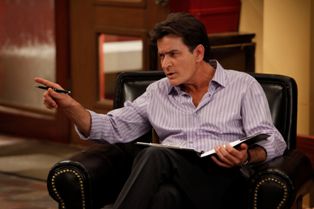 It's official: Charlie Sheen will appear in Canadian primetime for a couple years yet.
CTV on Wednesday confirmed it has signed on to a 90-episode back order for Sheen's comeback comedy Anger Management, on top of an initial 10-episode order that earlier bowed stateside on FX.
The pilot for the Lionsgate sitcom on Aug. 12 aired on CTV and drew nearly 3 million Canadian viewers, according to BBM Canada data.
That, and FX putting in its own expected 90-episode reorder from Lionsgate, led CTV to recommit to Anger Management.
"Canadians have for years had a long standing love affair with Charlie Sheen on CTV," Mike Cosentino, SVP, programming, CTV Networks, said in a statement.
"Today's announcement ensures Canadian viewers will be entertained by Charlie Sheen, and the cast and creative team behind Anger Management, for years to come," he added.
CTV will air the pilot episode of Anger Management again on Sept. 11, ahead of the comedy airing Fridays at 9:30 p.m. on The Comedy Network, beginning Sept. 14. The show settles into its CTV timeslot Tuesdays at 9 p.m. on Sept. 18.
From Playback Daily