In a TIFF: New sponsors spill activation details
MiC speaks with new sponsor Canada Goose on its amateur filmmaking contest, and returning sponsor Skyy Vodka on how it's shaking up this year's activation.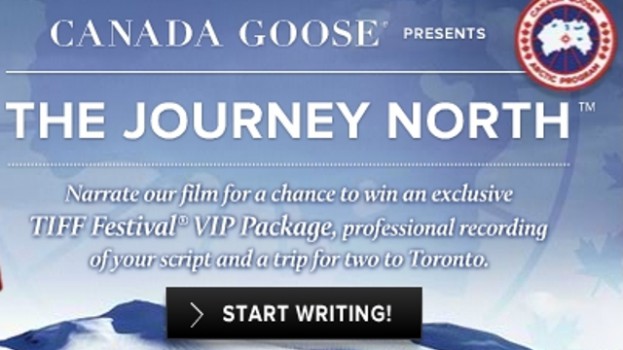 Outerwear brand Canada Goose has signed on as sponsor of the 2012 Toronto International Film Festival (TIFF) for the first time. And as a part of its activation, it will run a spot prior to the screening of 26 films competing for the best Canadian Feature Film Award at the fest.
The 15-second commercial called "Journey North" features Arctic scenery such as glaciers and is meant to showcase the beauty of Canada's landscapes, Kevin Spreekmeester, VP global marketing, Canada Goose, tells MiC.
The spot was created and placed by agency Doug & Serge, and includes an invitation for viewers to enter an online contest on a site that will go live closer to the launch of the festival, to develop a script for a 90-second video of an adventure story.  The top ten screenwriters will receive Canada Goose jackets, and the winner will gain a VIP package to next year's fest and a professional recording of their script.
"We wanted to invest in TIFF to tell our story," says Spreekmeester. "We don't do a lot of big glossy ad buys and we tend to just tell stories that are real and meaningful. If the medium is the message, then using a trailer to tell the story of our relationship with film has even greater impact." He further explains that the film fest is a good fit for the outerwear brand as it has supplied movie sets with its extreme weather gear over the years.
PMA Canada brand Skyy Vodka is returning as the official vodka for the film extravaganza for the sixth year in a row, and has added a twist to its 2012 sponsorship with an event that Chris Staresinic, senior marketing manager, Skyy Vodka, characterizes as "Cirque du Soleil meets Moulin Rouge."
The event is called "Skyy Blue Alley" and will be executed by NKPR and Diamond Integrated Marketing. It will serve as an unofficial kick-off party to the festival on Sept. 5 in an unexpected location in Toronto's downtown core, says Staresinic. Consumers will have the chance to attend the exclusive event through an online contest housed on the brand's microsite.
"We want to give the everyday consumer, that wouldn't regularly have the chance to experience what a true TIFF party is like, the opportunity to do just that," he says. "The sponsorship for us is really about amplifying what Skyy is all about on a mass level, and that rub-off that we get from TIFF brings out the key characteristics of Skyy which is a 'sexy glamour' positioning."
Staresinic explains that as TIFF has grown over the years to become one of the biggest consumer festivals in the world, Skyy, in turn, began to use more contesting and to leverage media buys outside of the fest itself, in order to "amplify our messaging and make us look significantly bigger than we might be from a volume perspective."
The vodka brand will have commercials running on 99.9 Virgin Radio to promote the chance to win a spot on the guest list for the Sept. 5 event, as well as print ads running in LCBO's Food and Drink, Tribute and Now magazines, highlighting its involvement in the fest.
Franca Miraglia, director of sponsorships, TIFF, says that another new sponsor this year is Audi, having signed on as the official vehicle for both the festival and TIFF Bell Lightbox. All red carpet arrivals will show up to the event in Audi cars. Also new to the fest this year is Grolsch, which will make an appearance as the festival's official beer.
Bombardier has also signed on this year, sponsoring a pre-opening night cocktail reception, which will feature a photographic exhibit of celebrities in their planes. Last on the list of new TIFF sponsors for 2012 is Orville Redenbacher.