Spotted! Subaru heats up Queen St.
The car co is finishing its BRZ launch campaign with a street-level execution in Toronto.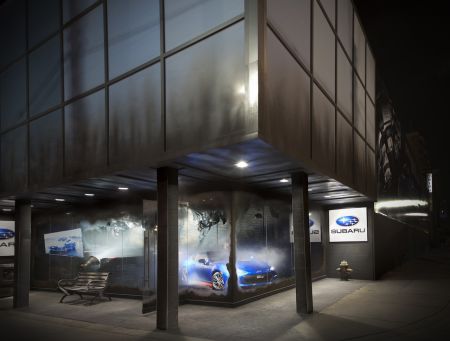 Subaru's BRZ launch campaign is going out with a bang, thanks to a street-level execution at Queen and McCaul St. in Toronto that places the vehicle in a retail space with all items (including a newspaper box for The Grid and a fire hydrant) around it appearing burnt simply because of their proximity to the car.
"The idea is that wherever the car goes it scorches everything around it because it is so hot," Tara Willis, manager of advertising, Subaru Canada, tells MiC. "We had a campaign that has been active for about three months and this is the finale. We wanted to close the campaign with an execution that would literally stop traffic."
Outside the space, there will be NFC-enabled posters that encourage passersby to use their smartphones to learn more about the car and watch the campaign's 60-second launch video. Media for the launch campaign was handled by OMD, with creative from DDB. The exectution was handled by DDB PR with Juxta Productions working on the interior.
The execution will be in place until Sunday Sept. 16, with brand representatives on-site to provide information about the BRZ and invite them to interact with the car on weekends.