V rebrands to broaden appeal
The Quebec channel, part of V Interactions, is sporting a new look with the goal of reaching more female viewers across a broader age range.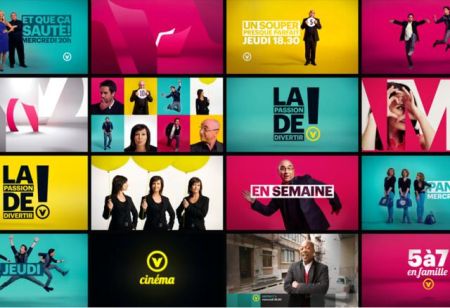 A fresh look calls for a new campaign for channel V.
The Quebec station will be sporting a renovated brand identity in over 100 TC Media-owned weekly magazines and websites as a part of a "hefty barter agreement" between the channel and media company, Luc-Andre Cormier, VP marketing and digital strategy, V Interactions, tells MiC. TC Media recently announced the launch of its first show called Ca Commence Bien! which begins on the channel starting on Labour Day.
There is also new creative running in Gesca Limitée newspapers in the province as well as La Semaine magazine to promote the channel. Radio spots will air on Cogeco and Astral radio stations to reach the channel's target audience of male and females between ages 18 and 49.
The channel used the 2012 London Olympic Games as the testing ground for the rebrand, says Reid Thompson, creative director, Troika Design Group (the California-based agency that led the redesign of V's new identity). He says that 30-second TV ads that use the concept of what he calls "multiplicity" – where the creative shows multiple images of the channel's personalities in a variety of positions – ran as teasers during the Games.
"The channel is really focused on reality and game shows and it requires a lot of the hosts and personalities to bring spirit to the show," he says of how Troika showcased this energy by creating images of the channel's personalities in colourful and striking poses and the new tagline of "Passion to entertain."
"After they launched the brand they got caught in the habit of redesigns on an annual basis, and more from a visual perspective and less of the brand," explains Robert E. Blatchford, director of business development, Troika Design Group, adding that V is still young, and is set on being a part of the reinvention of television through a heavy focus on branded integrations with advertisers.
"We came to this realization that through a lot of its history, V has always been the underdog. The third party at the table." adds Thompson. "And  we wanted to put all that baggage away and look at the opportunity for V to become a challenger brand."
Prior to the creative shift, the brand attracted a more male-skewed audience (18 to 34). But the channel is hoping the softer look will pull in more female viewers across a broader age range (18 to 49). "The goal was to broaden the appeal. The early reality shows and the aesthetics of the graphics just had a male boldness and attitude," says Thompson, further noting that the viewers tend to be more "mainstream Quebec" as opposed to "urban Montreal."