In a TIFF: Target gets into the festival spirit
The company is launching a hotel takeover, aimed at tastemakers in the city.
Target is launching another execution aimed at tastemakers in Canada, having announced the Target Hotel, a temporary takeover of the Templar Hotel during the Toronto International Film Festival starting next Thursday, Sept. 6.
The takeover will include a party in partnership with the CBC on Saturday Sept. 8 celebrating Canadian culture and the arts. Called Q After Dark, the party will be hosted by Jian Ghomeshi from Q and will be attended by actors, musicians, tastemakers and Target's mascot, Bullseye.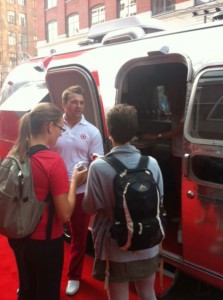 Lisa Gibson, public relations, Target Canada, tells MiC the hotel is in line with executions the brand has been launching like pop-up shops, beach parties and fashion week events, which educate Canadians about the brand ahead of its 2013 entrance into the market.
"Obviously TIFF is one of the largest events in the city, and right now our activations are all about bringing the brand to life," she says. "It is really about educating people about what Target is all about. We are all about doing a variety of things that are going to surprise people, and do something a bit unique."