MasterCard sponsors Fashion's Night Out
The credit card co is sponsoring Canada's first FNO event that aligns with its efforts to support local shopping.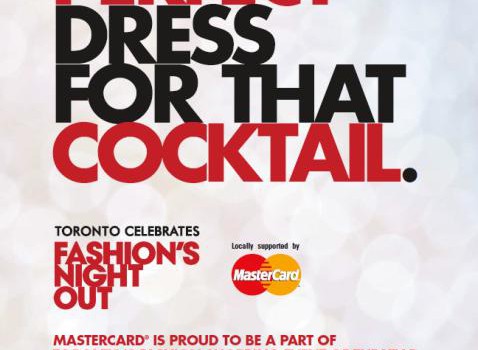 Canada finally got a spot on the guest list. Four years have passed since Vogue initiated the first "Fashion's Night Out" or "FNO" event in New York – and now consumers in Toronto, Vancouver and Quebec are being treated to the five-hour event this Thursday night.
MasterCard has been promoting its sponsorship of the event since the weekend with print ads in local dailies, including the Globe and Mail, Toronto Star and National Post in Toronto. The brand worked with UM on the media placement and MacLaren McCann on development of the ads, which also include online spots.
An hour prior to kick-off, MasterCard will conduct a VIP shopping spree with fashion icon Jeanne Beker on-site. And during the program, the brand will have a "Stylicity" lounge (named after the retail program launched for MasterCard's sponsorship of Fashion Week) set up for consumers to get their hair and make-up done as well as receive discounts on clothing from local retailer, The Peacock Parade. The brand is also working with Toronto shop Rac Boutique to bring together over 20 independent retailers to create a shopping destination at FNO called "The Bazaar."
MasterCard's sponsorship of the event furthers what the brand is trying to accomplish in the fashion space, Milos Vranesevic, business leader, sponsorship and merchant marketing, MasterCard Canada, tells MiC.
The brand started as a partner of Fashion Week last year and stepped it up in 2012 when it became the event title sponsor. It also has sponsorship ties to Loulou magazine's "Shop 'Til You Drop" event. "We've [also] put a lot of marketing and effort behind Stylicity, which is a retail program that supports local spending opportunities with the partners. This is another good extension of that," he says, adding that Fashion's Night Out aligns with those efforts to help stimulate the local economy.
"This is a great opportunity to attach ourselves to a very strong global brand and also encourage and celebrate a lot of the local talent that exists in design and fashion," adds Vranesevic.