BC Toyota Dealers makes itself at home in cabs
The brand is taking advantage of the high percentage of Toyota Prius hybrids used as taxis in Vancouver, by placing ads on screens in the vehicles.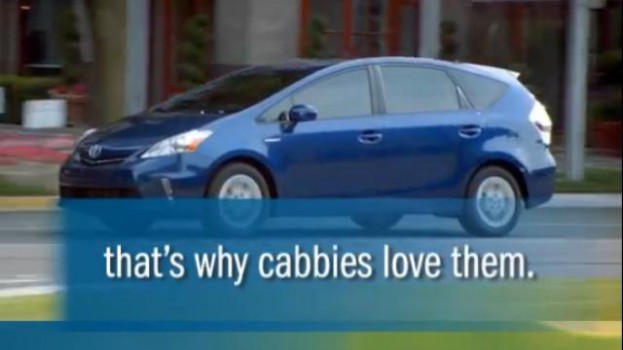 Did you know that nearly 96% of cabs in Vancouver are Toyota Prius vehicles? The brand is aware of this stat, and sees an opportunity to use the extensive fleet of hybrid cars as its own personal mobile showroom. That's why, starting this week until mid-Fall, the BC Toyota Dealers promote in cabs on 200-plus Play Taxi Media screens across the city.
The brand isn't only attempting to create awareness for its vehicles in an organic environment with messages of fuel-efficiency; it's also trying to target a younger demo than it has typically done in the past. Because the cars are more expensive than non-hybrids, they usually appeal to those over the age of 40, Dean Butler, director, media services, Elevator Strategy (the agency that handled both media and creative) tells MiC.
Video spots in the taxis attempt to eliminate the myths that the Prius is as expensive as it was five years ago, and in turn, hopefully pique the interest of a younger target. "We're really just trying to broaden the appeal for the hybrids, and make sure that they're at least a part of the decision making process," says Butler.
"This is completely different [for Toyota]. It becomes a natural environment for our hybrids to break through into mainstream consciousness as a [vehicle for the consumer to consider]," he notes, adding that the cabs provide a targeted experience that helps passengers understand more about how a hybrid works. "[It's also an] opportunity to get on-road testimonials from taxi drivers."
Commuters that travel between 15 to 40 kilometres each day are in the targeting mix as well, he adds. To reach the long-distance travelling audience, the brand chose to display ads on bus sides on highways and is working with eight radio stations in the city to have "brought to you by" sponsorships of traffic alerts. In addition, the campaign will see spots in building elevators to reach those working in downtown Vancouver.