Everything must go at Zellers
The Canadian retailer launched its third and final farewell Facebook campaign that will allow fans to adopt Zeddy and win weekly prizes.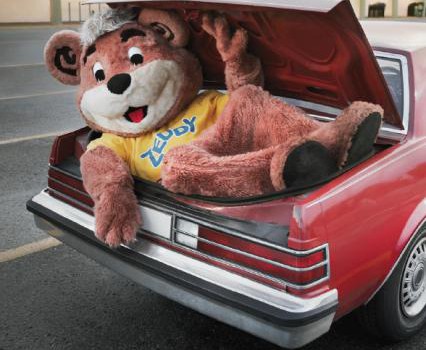 It's the end of an era. Yesterday, retailer Zellers launched its final Facebook campaign "Everything Must Go" that will run until Nov. 22.
With creative from John St., the program starts with a comedic online video called "Born Free" that shows the fictional executive managing director driving the Zellers mascot Zeddy into the woods and letting him know that the retailer is liquidating. "Everything must go. And that includes you," he says to the confused bear.
Viewers are encouraged submit a case through Facebook on why they should be able to adopt the mascot. An "Adopt Zeddy" tab on the Facebook page has a second video showing the bear trying to survive in the woods and then ends with a call to customers to adopt him.  Three semi-finalists will be selected and featured in their own short video and Zellers' Facebook fans will choose the winner. Each of the three semi-finalists will receive a $500 HBC gift card, and the winner will receive a donation of $5,000 to the charity of their choice.
"We thought that giving our consumers a chance to participate even in this, our final liquidation sale, made sense and would be a fun send-off to a great brand," says Jennifer Zedic, director of marketing, Zellers. "We hope that a charitable organization that works with children, for example, will submit a case to adopt Zeddy so that we know he is going to a worthy cause."
Weekly prize giveaways will also take place where fans can choose things such as a PS3, random consumable goods like a can of tuna, or even pieces of the store like an ice cream scoop from the diner or safety cone from the floor.
This is the third and final campaign for Zellers' last hurrah. The retailer first launched the "Festive Finale" campaign in November of last year, which gave consumers the power to decide which products would go on sale and even which holiday music should be played in stores through Facebook – which has acted as a hub for the entire campaign. It launched with a video memo from the executive managing director of Zellers. He announced that with Target coming in, Zellers' senior management was taking early retirement and leaving its Facebook fans in charge of the store's final holiday sale.
The second campaign called "Zellers Memory Showcase" rolled out this past spring and invited Facebook fans to share personal experiences they have had with the retailer. Several of the memories were remade into humourous YouTube videos such as a man proposing to his girlfriend in a Zellers restaurant. The executive managing director portrays both the roles of the nervous man and his blushing bride-to-be.
The 80-year-old retailer first launched its Facebook page in September of last year and to date has nearly 130,000 fans. "We built the community from zero and the level of engagement with the followers has been five times the retail industry standard," says Angus Tucker, partner and co-creative director, John St. "The results of the 'Festive Finale' showed the best fourth-quarter sales Zellers has experienced in a decade."