Rickard's adds a layer
The Molson Coors brand has launched its first seasonal beer, Rickard's Cardigan, with an OOH and digital campaign.
Molson Coors brand Rickard's has launched its first seasonal beer this fall with the introduction of the autumn spice-flavoured Rickard's Cardigan.
Julie Sanchez, senior marketing manager, Rickard's at Molson Coors Canada, tells MiC the idea for the beer came from a brainstorm with its agency of record, Rethink.
"This one-off is a first for Molson Coors," she says. "We have been thinking about it quite a lot and feel innovation is a big part of the brand, along with surprising the consumer. The [Rickard's] personality is bold, masculine, it stands out."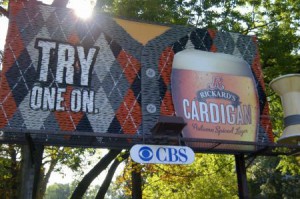 With a bull's eye target of males in their mid-to-late 20s, the seasonal beer is being promoted with a month-long OOH and digital campaign  with media by MEC centered in urban areas like Toronto, Vancouver, Montreal, Edmonton and Calgary, says Sanchez. Creative for the campaign keeps with the sweater theme, with a tagline of "Try one on." She adds the autumn spiced beer, which won't be available much longer than the month-long campaign is out, is the first of a line of seasonal offerings from the Rickard's brand.
"The name Rickard's Cardigan works perfectly in English and French, because it means the same thing in both markets," she says. "It also works because it is [as though] you are putting it on when it gets cold."