The National Post's hunger for games
The publication's FP Tech Desk is introducing the gaming market to its new vertical, Post Arcade, and is offering unique ad opps.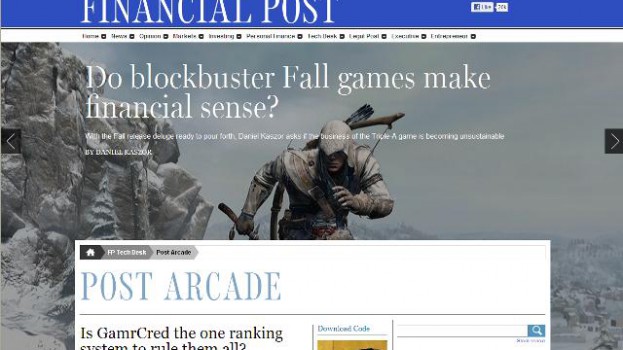 The National Post's FP Tech Desk may well be considered an infant in the mediaverse, having launched just over a year ago, but it's wise enough to recognize a growing market.
Yesterday, the technology vertical rolled out Post Arcade, a gaming web channel that hopes to capitalize on an industry that the Entertainment Software Association of Canada (ESA) projects to see a 17% growth over the next two years. The gaming market in Canada, according to the association, is also the third-largest in the world.
"We felt like it was time to give this industry, which has grown up before our eyes, it's due," Matt Hartley, editor of FP Tech Desk and the new Post Arcade vertical, tells MiC. "This is a way for us to introduce ourselves to the gaming public and hopefully they'll like what we're doing, and by extension, like what we're doing on the Financial Post."
The average age of a Canadian gamer is 33, with 59% of Canadians playing videogames, says the ESA on its website. Of those gamers, 62% are female and 38% are male. "We're looking at reaching a more mature audience," says Hartley. "There is a generation of people who grew up with games, people who had a Nintendo as a teenager, [and] this is an industry that's growing up."
"Videogame players, just like technology enthusiasts, tend to be very loyal customers and they tend to be passionate about the things that they're into," he adds. "I think there's value in addressing markets like those."
Post Arcade will adopt a similar advertising model to that of the FP Tech Desk, with the use of traditional ads, but Hartley is hoping the vertical will see more creative placement of brand messaging. As of now, the vertical is set up to show five rotating stories, with a large image back-splash. Interested advertisers can position their brand in one of those spaces to create a kind of homepage takeover, says Hartley of the opportunities available.
"I think one of the things that we're hoping to do, because this is an experiment in and of itself, is to open ourselves up to new ideas on the advertising environment," he says, adding that the publication is in talks with brands to advertise, but none have been confirmed for its launch.