TD makes its debut on The X Factor
The Canadian bank is working with CTV to be integrated into the US reality show with commercial break vignettes.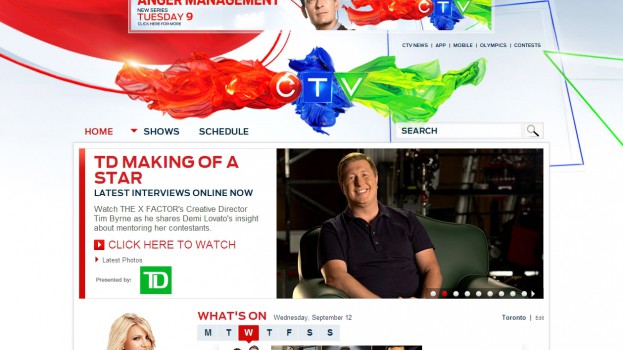 CTV and TD Bank Group have teamed up on a dynamic project that will have the Canadian bank incorporated into American reality TV show The X Factor.
Members of The X Factor's production team, like the creative director as well as show contestants and their coaches, will be interviewed on-set from the "TD Comfort Zone" on a weekly basis. From this, 30-second filmed vignettes with an Etalk correspondent will be created to air during commercial breaks in Canada over the course of the season. The partnership was handled by Starcom, with CTV and TD handling the development of the campaign.
"It's the first time that a Canadian brand is actually integrated into a US reality show," Carmen Lago, director, brand partnerships, Bell Media, tells MiC, and further explains that this is an extension of a previous, similar initiative with the bank. In 2010, the brands partnered to create "Up Close & Comfortable" segments of behind-the-scene interviews with the creative minds (writers and directors) behind CTV's top shows such as Grey's Anatomy, Desperate Housewives and CSI.
Lago explains that the dialogue for the "TD making of a star" program will be central to the theme of "mentorship and advice." Coaches and choreographers will be asked to share the advice they gave their students that week, and contestants will tell the viewers how that advice helped them make it to the next stage of the show.
"We looked at shows that we have from a broadcast perspective that give tangible advice," she says. "This is an alignment of TD and what they would do for those who go into the bank to ask advice about banking; we're driving the parallels between those."
The partnership will result in a multi-faceted campaign that also includes audio fingerprinting technology. Mobile ads will be deployed when it detects a TD commercial playing on the TV in the background while an iPad, iPhone and iPod user is in the CTV app. Weekly Etalk segments, live chats on the CTV app, a microsite (housing extended clips of the interviews) and a contest that prizes a trip for two to LA to watch The X Factor live taping of its season finale will also be a part of the promotion.
"This is a long and extensive process, so you have to be willing, from a client and agency perspective, to be open to the process, developing the idea and collaborating with the production partners," she says. "We have a lot of great Canadian shows, but I think when you're aligned to such a high-profile show like The X Factor it makes it that much more powerful, impactful and credible."