CBC's search for Dorothy goes social
The pubcaster has taken its second-screen apps up a notch for Over the Rainbow, using audio cues and live events as ways viewers can vote for their favourite contestant.
The CBC's new live competition series Over the Rainbow premiered last night with the introduction of an app that allows viewers to vote for their favourite Dorothy via social media.
When viewers interact with content on the mobile app (such as behind-the-scenes footage and bios on each of the contestants), they begin to rack up votes that go toward who they believe should be cast in the leading role of The Wizard of Oz stage adaptation. Up to 50 ballots can be garnered during the season, which can then be divvied up between Dorothys.
The CBC has done something similar to this in the past with its Cover Me Canada reality show. But this time the second-screen app allows viewers to have even more interactive ownership of what happens during the show, Tessa Sproule, director of interactive content, CBC, tells MiC.
For example, audio cues during episodes will interrupt a contestant's dance routine and ask app users to say whether or not they like her performance. The collective opinion of viewers using the app will then be shown on-screen and in real-time. "We're using the second screen as complementary, but also deeply tying it into the broadcast experience," she says. "We've all seen hashtags on the screen, that's something we've been playing with for the past year. But now we're really trying to figure out how to make this a better experience, beyond just 'we want to hear what you have to say.'"
The app is not only meant for use during the broadcast, but also to continue interest in the show between episodes, says Sproule, adding that viewers will be invited to garner additional votes by completing challenges. These challenges can be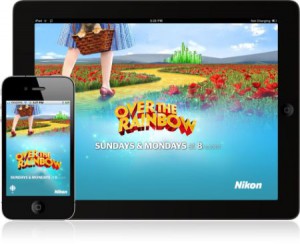 as simple as retweeting a comment from the show for one vote, or more elaborate such as throwing a viewing party of Over the Rainbow to gain five votes, she explains.
"We're casting Dorothy for this and we want the most informed voice on which [contestant] that should be," adds Sproule. "This is much more effective than a simple click of a button on the web to vote, we really want a deeply engaged audience to help us make this decision."
The launch of the app is sponsored by Nikon, with Sproule adding that additional sponsorship opportunities are available.
Over the Rainbow airs Sunday night at 8 p.m., with the weekly results show launching tonight at 8 p.m. on CBC.