Spotted! Rogers gets sweet with experiential
The telco recently spent some time on campus, hooking up students with free ice cream, and also went online to directly target young adults.
Rogers made the most of the pleasant weather that Canada's been experiencing lately, extending the summer trend of ice cream freebies to students heading back to school this fall.
Over the first two weeks of classes, the telco sent out trucks filled with free soft-serve and an offer (wrapped around cones) for a discounted student cable and internet bundle called the "Rogers student hook-up bundle."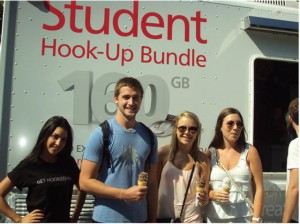 OMD proposed the street-level tour to Rogers as an alternative to a more costly traditional TV or print buy, according to a company representative.
The objective was to combine on-campus promotions with the placement of online media ads, which include standard and pre-roll, to reach young adults where they frequent. Publicis worked alongside Rogers on the creation of the truck and promotional material, with Velvet Media planning campus visits in cities such as Toronto, Ottawa and Waterloo.