Shaw gets mobile with new service
Called Shaw Go, the media co is launching a series of TV content apps, first for Western Canada's Movie Central, with the second coming within a month.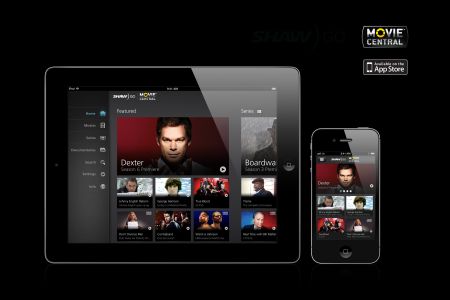 Shaw is launching a new service, Shaw Go, which aims to extend the mobile reach of its programs to existing subscribers of Shaw Cable or Shaw Direct across multiple platforms.
Currently available on iOS for Apple devices like the iPad and iPhone,  the first app out of the gate for Shaw Go is Movie Central, the station that holds the rights for HBO west of Manitoba. Content on the app will be free for Shaw subscribers who get the channel at home, says Paul Burns, VP of digital, Shaw Media.
Burns says shows on the app will be available the day after they air on TV, for instance with the Movie Central app, last night's episode of Dexter will be online today.
"The quality of the content is why this is the first app out of the gate," says Burns. Because the rights to HBO are split in Canada, only Western Canadian Shaw customers can download this particular app, but Burns says the second app from Shaw Go, which has been in the works for about a year, will be released in a month.
Because the channel is ad-free on TV, the Movie Central app on Shaw Go will be the same way, says Jay Mehr, SVP operations, Shaw. But additional apps for Shaw channels will be rolling out approximately every month with ad opps available where they are also available on TV, he says. Also in the next few months, Shaw Go will expand to include live streaming TV and on demand content.
Mehr suggests that a Global Television app will not be amongst the first for Shaw Go. Although Mehr was tight-lipped on the plans, potential apps could come from the company's specialty channels, like HGTV Canada, History Television and Food Network Canada.