Spotted! The BC Egg Marketing Board gets fired up
The organization unveiled a life-size fire truck made of egg cartons to demonstrate the impact of cross-border egg shopping between BC and the US.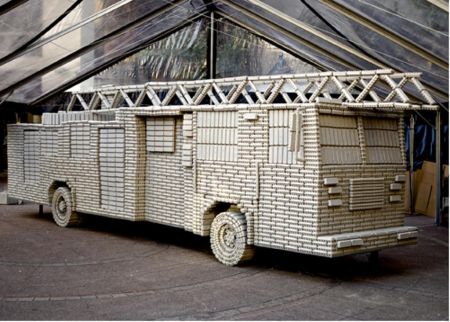 What came first: the egg or the fire truck? In an attempt to symbolize the economical impact purchasing eggs across the border can have, BC Egg Marketing Board, with the help of DDB Canada, unveiled a life-sized fire truck made entirely of egg cartons.
The truck represents a fourth of what the $3 million in lost GDP (caused by BC residents travelling to the US each year to buy approximately 24 million eggs) can equate to, and the installation is meant to associate that loss with cuts in public services, Cosmo Campbell, creative director, DDB Canada, tells MiC.
"We wanted to put into perspective for British Columbians and Vancouverites how the dollar, or however many cents they're saving on a dozen eggs, can impact the BC economy," he adds. "With all of that money, we're showing what can be pumped back into our infrastructure locally."
During the early hours of Tuesday morning, before the reveal took place in downtown Vancouver, the agency documented the installation of the piece for a video that will later be uploaded to the new "Eggonomics" microsite. Also on the site, consumers are provided with facts and information on the impact of cross-border egg shopping.
In addition to the stunt, digital ads will be placed by OMD on news sites such as the CBC starting Oct. 1. This is the first work for the BC Egg Marketing Board since OMD and DDB won the account earlier this year, and Campbell explains that the agencies chose online and experiential tactics for this campaign because, "it's the most efficient way, on a small budget, to reach a larger group of people in the lower mainland [of Vancouver]."