Vibrating ads and GPS-tracked chocolate: MiC's Global Tour
Mike Power at MediaCom and Elizabeth Brennan at MPG comment on controversial print ads in India, a real-life Willy Wonka campaign in the UK and the latest innovation in bar pick-ups.
This week's Global Tour shines a spotlight on brands that have taken the tech route to promote with a twist. Each execution involves ordinary objects infused with the latest technology trends. From chocolate bars embedded with GPS trackers, to beer bottles tagged with QR codes and newspapers that vibrate.
We asked Mike Power, SVP, strategy and innovation at MediaCom, and Elizabeth Brennan, media manager at MPG, to take a gander at each and provide commentary on the effectiveness of the campaign executions.
United Kingdom: Nestlé wraps chocolate with tracking devices
To create excitement for its candy, Nestlé has embedded a GPS tracking device in six seemingly normal Kit Kat, Aero and Yorkie Milk chocolate bars, and  put them on shelves in stores across the country. The brand will be alerted when a consumer has found and unwrapped one of the winning location-tracking wrappers, it will then find and prize them with a cheque for £10,000. In addition, Nestlé is giving away up to 2,000 £10 prizes to those who scan one of the 3,000 OOH posters embedded with QR codes and enabled with NFC technology.
Power: Some people feel technology has changed everything, while others say it simply enables things humans would do anyway. In this case, I'd say it's a case of the latter. Packaged goods companies have been running consumer promotions since marketing was invented. In this case, Nestlé has done something meaningful with GPS technology that blends the excitement of Willy Wonka's gold ticket with the slickness of a Tom Cruise Mission Impossible movie. I love the "We will find you" tagline. It is borderline disturbing if not for the fact that Nestlé will reward you handsomely for the effort. I think some consumers, who may dislike going to another Facebook page to enter yet another contest, will love the refreshing aspect of this promotion. All they have to do is enjoy their chocolate snack and hope they haven't consumed the GPS beacon. It's fun, simple and wrapped in progressive technology. Well done.
Brennan: It is great to see new(ish) technology like GPS tracking being used in such a whimsical manner, kids of all ages want to win the golden ticket.  It has so much viral potential, with the right videos it can make the world feel like they are kids again. Geocaching seems to be a bit of a flash in the pan that never really got its legs, but finally a brand has been able to make use of this technology in an attainable manner.
Via PSFK: Click here to read the international story.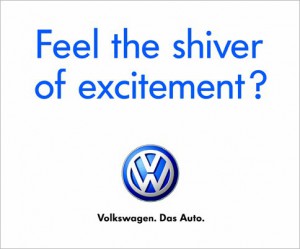 India: Volkswagen's good vibrations
To promote its Polo and Vento automobiles, Volkswagen literally made newspapers shake in  readers' hands to mimic the feeling of being in one of the cars. The auto brand took out two full-page print ads in the Times of India, and when the reader turned to the page with the ad, a small light-sensitive box vibrated, with copy that asked if they could "Feel the shiver of excitement?" The vibration stopped when the consumer flipped to a different page. The campaign did receive a bit of negative feedback with some Twitter users and bloggers commenting on the sexual undertones of the ad.
Power: My first thought is I might've used the word "buzz" instead of "shiver." It seems that the piece of machinery attached to the ad created more of a buzz than a shiver, unless of course you count the reciprocating cold shoulder generated in social media after its launch. Do I think this is the coolest thing a brand has ever done to drive engagement and excitement? No. But (and this is big but) at least they are doing something. If we waited around for the perfect idea and guarantees that social buzz would be exactly what we wanted, we would never try anything new! It is a fun, simple and engaging idea. It gets the brand noticed within a medium where it runs the risk of becoming wallpaper and it certainly did create a "buzz." And like Oscar Wilde said, "The only thing worse than being talked about is not being talked about."
Brennan: The old PR mantra says there is no such thing as bad press, and of course pushing innovation means there will always be controversy. It's quite unexpected for a newspaper reader to have this experience, which can be a good thing, although it could come at a price of embarrassing your audience, which you don't want to do. Being that the automotive category is quite competitive, it can work in a brand's favour to push the envelope a little. The concern is you don't want to embarrass the consumer, and make them want to leave the page with your ad on it as fast as possible.
Via Brandchannel: Click here to read the international story
Singapore: Harry's Bar connects singles with QR code beer bottles
Approaching someone that interests you in a bar can be, at times, a daunting task. That's why Harry's Bar created "Bottle message" to help shy singles strike up a conversation. When patrons purchase a beer, they can scan a QR code that sits on a bottle neck tag and download an app. They can enter a message that is then embedded in the app, and when they purchase another beer, the tag can be placed around its neck and sent to someone they want to meet. The QR code bottle program managed to double beer sales at the bar.
Power: While I am certain there were some logistical constraints and negative repercussions to Harry's endeavor, big brands around the world could take a lesson from this initiative. How many alcohol brands try to dance around the mating rituals of "responsibly" drunk consumers while navigating the ethical landmines of sexual taboo? Harry cuts through all of this and gets right to the central insight that guys don't know how to meet girls, and girls also want to meet guys but sometimes wish they would keep their distance. Instead, this creates an enhanced experience around ordering a beer and lets people have some fun from a safe distance.
Brennan: This certainly gave "message in a bottle" a whole new interpretation for the digitally-savvy generation. It's the perfect pick-up line for millennials to use a  QR code on a beer to break the tension rather than walking up to meet the girl with your typical corny line. It's a great insight to see that this generation finds it easier to text than have a conversation, so why not break the ice over your phone rather than be embarrassed in person?
Via Digital Buzz Blog: Click here to read the international story.