Couch critics: Partners, Ben and Kate, The Mindy Project and Vegas
Predictions on which new Citytv comedy shows will hit and which will miss from the team at Denneboom and Bensimon Byrne's Max Valiquette.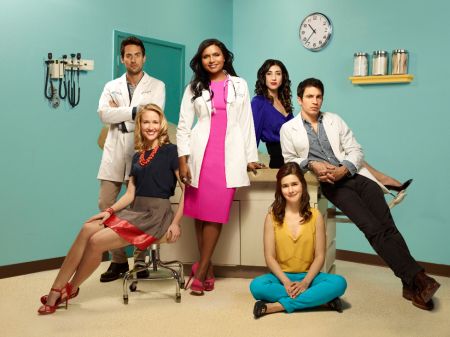 MiC's TV-mad contributors are back to give a rundown on the first of this week's new shows, and place their bets on which will have staying power.
Reviewing Citytv's Partners, Ben and Kate and The Mindy Project and Global's Vegas is the team at Denneboom: VP of marketing and media Leslie Krueger, media analyst Kayla Landen and VP and senior media advisor Lauralea Mast, as well as Max Valiquette, managing director, strategy at Bensimon Byrne.
Partners (Monday night at 8:30 p.m. on Citytv):
Denneboom: We experienced a little Deja vu after the first commercial break of Partners. If this show came out fifteen years ago a cast of characters including a gay man, his straight best friend and their significant others would be revolutionary television. Will and Grace covered that ground quite well in 1998. The overall premise seemed like a mixed bag of many existing TV shows and showed little hope of a fresh storyline. And seriously, the writers are going to need better "jokes" than the gay surgeon having a "heart on" (wearing a heart pin) because he is doing cardiac surgery that day. We predict that viewers will tire of the premise and the humour and Partners won't be on the schedule next year.
Valiquette: Partners is a new show from real-life best friends and working partners David Kohan and Max Mutchnick (who created Will and Grace). The show is essentially a fictionalized version of their own relationship – one is gay (and sassy!), one is straight (and uptight!). They work together and have romantic partners of their own. I think it's called Partners because Stereotypes was already taken. And while the actors are generally pretty winning, the show is remarkably dull (considering that just fifteen years ago this would have been considered too edgy for a network sitcom).
It's also haemorrhaging viewers from its lead-in (the venerable How I Met Your Mother) meaning it won't be long for this world. Unless it gets a lot better, really quickly, Partners is gone before the new year.
Odds of survival? These BFFs are not around for long.
Ben and Kate (Tuesday night at 8:30 p.m. on Citytv):
Denneboom:  So we watched New Girl (special episode) at 8 p.m., followed by Ben and Kate at 8:30 p.m., then New Girl again at 9 p.m. We didn't laugh from 8:30 to 9 p.m. Lesson learned – men never grow up and women get less funny after they do grow up and have children. Too bad there wasn't a laugh track to let us know what was supposed to be funny.   Then again maybe it was good not to fool the viewers.
Ben and Kate had high character density in the first two minutes setting up the story, but there was no sympathy able to be developed for these same characters because of the frantic pace.
Is the half-hour family sitcom dead?  Well there is still Modern Family. But while the family in Ben and Kate is modern they are not likable. Or believable, and certainly not funny.  Despite the strong lead in of New Girl we don't see Ben and Kate lasting long.  And that may be a good thing. Please Hollywood show us some grown up men on screen.  We think we can take it.
Valiquette: Ben and Kate is also about two partners, but this time it's a brother and sister. She's tightly wound, he's a free spirit. She's got a kid, he moves back in to be her nanny. It's hardly groundbreaking stuff. It's also facing off against ratings powerhouses The Voice, Dancing with the Stars, and NCIS. This one might make it through to the end of the season, but only because there's no real alternative for Fox, the network that produces it in the US. This one has a 50/50 chance of making it, but if it's gone you certainly won't miss it.
Odds of survival? The vote is split on this sibling sitcom.
The Mindy Project (Tuesday at 9:30 p.m. on Citytv):
Denneboom: Sitting down to watch The Mindy Project, we had expectations and hope that Mindy Kaling's character would be like her character Kelly on The Office.  She was a little smarter, less manipulative, still in love with love and thankfully – still Kelly.
The Mindy Project is more than just a story of a thirty-something single girl seeking love. It mixes in the realities of balancing relationships (sex) and being a professional (OBGYN ) in today's world (with a few laughs in between). Female viewers will indulge in this show for its escapism into Mindy's sappy "lover in a dangerous time" existence and the raunchy-girl lifestyle that Mindy seems to continue to revert to. With faithful fans and guest appearances from The Office, (past co-worker  Ed Helms (Andy) was her blind date) we think that Mindy's sarcastic humour will be embraced by viewers and they'll keep coming back for more.
Valiquette:  The Mindy Project is one of the more promising new comedies of the season. It was created by, and stars, the really-quite-outstanding Mindy Kaling. The premise also sounds a little tired – she's overachieving single woman who isn't that great at relationships number 526 in the history of TV – but it's just done so, so well. This is a show with a point of view, great writing, and a sensational cast. It's also been promoted beyond all reasonable expectations, and follows The New Girl – with which it's paired so perfectly that it may as well have been called The Newer Girl. This one is here for the duration, and I wouldn't be surprised if it was one of the first shows of the year to get a full season pickup.
Odds of survival? Prognosis positive for this funny doctor.
Vegas (Tuesday at 10 p.m. on Global):
Denneboom: With broadcast TV (ABC, CBS, NBC and FOX) being completely shut out of the 2012 Emmy nominations in the drama category; CBS has got to be betting on Vegas.  Set in the 1960′s Las Vegas, including 60′s costumes, cars and attitudes (think Mad Men), the pilot sits somewhere amongst a western, a police drama and a fact based period piece (trivia: the lead character is based on the real Vegas Sheriff Ralph Lamb 1960-1979).
The casting is superb with Dennis Quaid (Sheriff Lamb) making a triumphant return to the little screen after a 35 year absence (useless trivia:  Quaid last appeared on TV in Baretta in 1977).
Michael Chiklis plays his soon to be nemesis Chicago Mobster Vincent Savina.  Carrie Ann Moss (Matrix) plays a far too sophisticated and worldly cow-town DA and the only female not dressed as a showgirl. The mob-boss and the sheriff rivalry as well as the evolution of Las Vegas from a dusty cow-town to sin city will be the underlying storylines that will keep audiences coming back. A weekly formulaic murder case to solve may become tired, but if we were to bet on the success of Vegas we would say they have hit a jackpot.
Valiquette: Wasn't it only a few years ago that Josh Duhamel took time away from making bad romantic decisions to star in a show called Las Vegas? Well, we're back in Sin City already for another hour-long drama, this one called, simply, Vegas (which suggests that we'll get a show called Veg in 2018, but whatever).
The twist here is that it takes place in the 1960s and that it boasts a terrific pedigree: it was co-created by Nicholas Pileggi, who co-wrote Goodfellas (!) and it stars Dennis Quaid, Michael Chiklis, and Carrie-Ann Moss. Those are some decent actors, people! I get the sense that the show hasn't quite figured itself out yet – is it a procedural, or a serial? – but there's enough going on here for the show to survive for a full year. And really, Quaid and Chiklis are bona-fide stars who know how to act. There's not a lot on network television like the two of them going toe-to-toe.
Odds of survival? Bet on a full-season.