Halifax boasts highest newspaper reach: Nadbank
The city's print and online newspapers reach 86% of residents each week.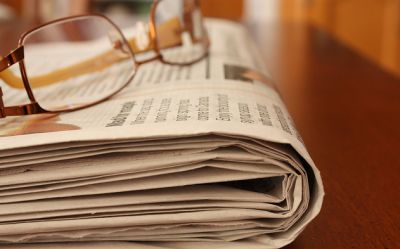 According to the latest research from Nadbank, Halifax's newspapers are getting the largest reach, with 86% of people over the age of 18 reading news either in print and online each week. The city also boasts the highest weekday print reach (56%) and total daily reach, which includes print and online (64%).
The study measured readership results for 36 Canadian daily newspapers, and includes data from Fall 2011 and Spring 2012.
Here's a break-down by daily and weekly reach, and the top titles in each city:
Weekday print readership:
Halifax: 56%
Winnipeg: 50%
London: 49%
Vancouver: 49%
Ottawa-Gatineau: 47%
Montreal: 46%
Calgary: 45%
Edmonton: 45%
Toronto: 41%
Weekly print readership:
Winnipeg: 78%
Halifax: 75%
Vancouver: 74%
Calgary: 73%
Edmonton: 71%
London: 71%
Montreal: 71%
Ottawa-Gatineau: 71%
Toronto: 68%
Total daily reach (print and online):
Halifax: 64%
Ottawa-Gatineau: 58%
Winnipeg: 58%
London: 56%
Calgary: 55%
Montreal: 55%
Vancouver: 55%
Edmonton: 52%
Total weekly reach (print and online):
Halifax: 86%
Winnipeg: 82%
London: 81%
Calgary: 80%
Ottawa-Gatineau: 80%
Vancouver: 80%
Edmonton: 79%
Montreal: 79%
Toronto: 75%
By title:
Toronto:
Total weekly readership (by number of adults who read an online or print edition of the newspaper in the past week):
Toronto Star
Metro
Toronto Sun
Globe and Mail
24 Hours
National Post
Top print newspaper (by number of adults 18+ who read at least one printed edition of the newspaper in the past week):
Toronto Star
Toronto Sun
Globe and Mail
National Post
Online readership in the past week:
Toronto Star
Globe and Mail
National Post
Toronto Sun
Montreal:
Total weekly readership (by number of adults who read an online or print edition of the newspaper in the past week):
Le Journal de Montreal
La Presse
Metro
24 Heures
The Gazette
Globe and Mail
National Post
Top print newspaper (by number of adults 18+ who read at least one printed edition of the newspaper in the past week):
Le Journal de Montreal
La Presse
The Gazette
Globe and Mail
National Post
Online readership in the past week:
La Presse
Le Journal de Montreal
The Gazette
Globe and Mail
National Post
Metro
24 Heures
Vancouver:
Total weekly readership (by number of adults who read an online or print edition of the newspaper in the past week):
The Province
Vancouver Sun
24 Hours
Metro
Globe and Mail
National Post
Top print newspaper (by number of adults 18+ who read at least one printed edition of the newspaper in the past week):
The Province
Vancouver Sun
Globe and Mail
National Post
Online readership in the past week:
Vancouver Sun
The Province
Globe and Mail
National Post 24 Hours
Metro
Ottawa-Gatineau:
Total weekly readership (by number of adults who read an online or print edition of the newspaper in the past week):
Ottawa Citizen
Ottawa Sun
Metro
Globe and Mail
24 Hours
National Post
Top print newspaper (by number of adults 18+ who read at least one printed edition of the newspaper in the past week):
Ottawa Citizen
Ottawa Sun
Le Droit
Globe and Mail
National Post
Online readership in the past week:
Ottawa Citizen
Globe and Mail
Ottawa Sun
National Post
Le Droit
Metro
24 Hours
Calgary:
Total weekly readership (by number of adults who read an online or print edition of the newspaper in the past week):
Calgary Herald
Calgary Sun
Metro
Globe and Mail
24 Hours
National Post
Top print newspaper (by number of adults 18+ who read at least one printed edition of the newspaper in the past week):
Calgary Herald
Calgary Sun
Globe and Mail
National Post
Online readership in the past week:
Calgary Herald
Calgary Sun
Globe and Mail
National Post
Metro
24 Hours
Edmonton:
Total weekly readership (by number of adults who read an online or print edition of the newspaper in the past week):
Edmonton Journal
Edmonton Sun
Metro
Globe and Mail
24 hours
National Post
Top print newspaper (by number of adults 18+ who read at least one printed edition of the newspaper in the past week):
Edmonton Journal
Edmonton Sun
Globe and Mail
The National Post
Online readership in the past week:
Edmonton Journal
Edmonton Sun
The Globe and Mail
The National Post
Metro
24 hours
Halifax:
Total weekly readership (by number of adults who read an online or print edition of the newspaper in the past week):
The Chronicle Herald
 Metro
Globe and Mail
National Post
Top print newspaper (by number of adults 18+ who read at least one printed edition of the newspaper in the past week):
The Chronicle Herald
Globe and Mail
Online readership in the past week:
The Chronicle Herald
Globe and Mail
National Post
Metro
London:
Total weekly readership (by number of adults who read an online or print edition of the newspaper in the past week):
The London Free Press
Metro
Toronto Star
The Globe and Mail
Toronto Sun
National Post
Top print newspaper (by number of adults 18+ who read at least one printed edition of the newspaper in the past week):
The London Free Press
Toronto Star
Globe and Mail
Toronto Sun
National Post
Online readership in the past week:
The London Free Press
Globe and Mail
Toronto Star
Toronto Sun
National Post
Metro
Winnipeg:
Total weekly readership (by number of adults who read an online or print edition of the newspaper in the past week):

Winnipeg Free Press
The Winnipeg Sun
Metro
Globe and Mail
National Post
Top print newspaper (by number of adults 18+ who read at least one printed edition of the newspaper in the past week):
Winnipeg Free Press
The Winnipeg Sun
Globe and Mail
Online readership in the past week:
Winnipeg Free Press
Winnipeg Sun
Globe and Mail
National Post
Metro