National Post's cross-media audience surges
The Postmedia-published title reports big gains for its social and digital audiences in its 2012 Consolidated Media Report.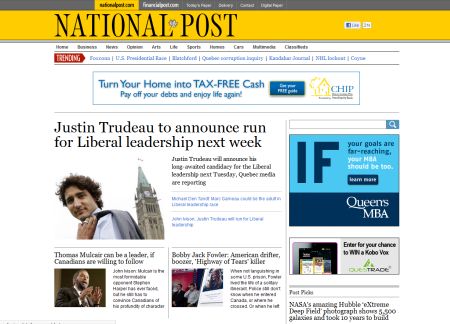 The National Post was the first and remains the only Canadian newspaper using the Audit Bureau of Circulations' (ABC) Consolidated Media Report (CMR). Since September 2011, the publication has recorded a 51% growth in readers across its digital network.
The consolidated report allows publications to summarize readership and engagement data across media platforms, with publishers using it to show advertisers where audiences consume their content.
In the report, the National Post shows a 53% increase in average monthly page impressions (20,375,722) on Nationalpost.com and that impressions on Financialpost.com have grown by 10% to 5,094,769. It states that the Postmedia-owned pub's total Twitter following is up 173% to 292,571 fans, along with statements of its Facebook likes (28,267) and its Foursquare (88,282) and Tumblr (45,310) following.
Furthermore, the total average circulation of print paid issues from Monday to Friday since Sept 2011, has decreased by 2% from133,253 to 130,134.
Susan Kantor, communications manager, ABC Canada, tells MiC no other consumer-facing publications use the report but that B2B titles Canadian Underwriter and Oral Health signed on around the same time as the National Post.
"We have gotten interest from other newspapers," she says, explaining that the report is "in addition to the typical statements newspapers have to file, so some might be waiting to see how it plays out with other publishers before they make a commitment."
Kantor is confident more publishers in Canada will come on board, with the bureau already working with around 50 different newspapers, consumer and business titles around the world. "We are expecting that number to increase to around 100 titles by the end of 2012," she adds. "Across the board, it's clear that more publishers in general are getting on board with the CMR, and we're expecting to see this cross-media reporting trend continue."
Over the past month, the ABC has rolled out global CMR's for the Economist and National Geographic. Kantor says news of the first set of Canadian magazines to use the report will be announced later this fall.