Allegra's resourceful use of OOH
The antihistamine brand has placed wild postings in Montreal with creative that uses the medium to demonstrate allergy misfortunes.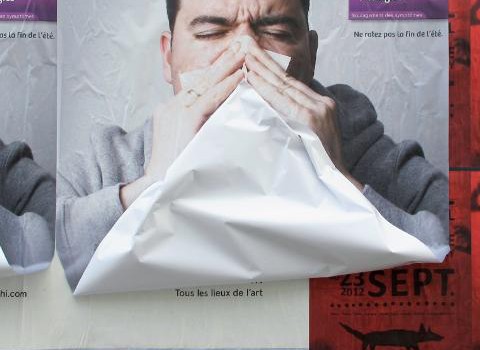 Though summer has come to a halt, allergens are still most certainly in the air. Antihistamine brand Allegra is using this end-of-season window to tout its wares, having recently blanketed Montreal with wild postings that show a man using the ad paper as a tissue.
Back in April, Allegra entered the market with its new "Don't miss out on summer" positioning and spoke to consumers through television, the web and on the streets. All media was handled by Touche! and the creative was developed by Lg2. For the second phase of the campaign, the brand slightly altered its tagline to coincide with the season when some may think that there's no need for an antihistamine, Marc Fortin, VP creative director, Lg2, tells MiC.
"We came back on-air at the end of summer and changed the position by saying "Don't miss the end of summer," he says of the ads that were placed in parks and urban areas where allergens dwell. "It was also strategic to talk about allergies at the end of summer. [Because] that is the time of the year when it peaks."
Budget constraints at the start of the campaign prevented the brand from executing the unwonted print campaign at the start of the summer, says Fortin. The creative did however get some airtime when Lg2 entered the idea into Astral's Carte Blanche competition earlier this year in the hope of winning free media to place the ads for Allegra.
"It's a creative way to use the media, it's a good way to be noticed and have impact," he adds of the concept. "When you're allergic, you use a lot of paper, so it was a nice cross-over between paper and tissue. This is a big category, and there are lots of players, so being noticed for being different is important."