Spotted! Absolut virtually takes over Yonge-Dundas
The Corby Distilleries brand has purchased 70% of the square's ad space and placed augmented reality ads for its Greyhound cocktail.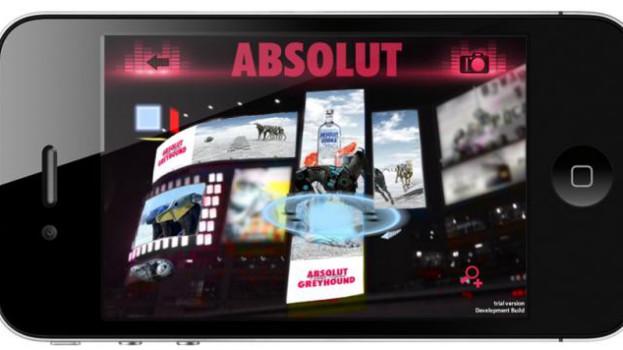 Once again, Absolut will dominate a large portion (70%) of Toronto's Yonge-Dundas Square with ads for one of its cocktails. The brand is continuing to invest in OOH after seeing an impressive recall rate last year, Chris Bhowmik, senior brand manager, Absolut, tells MiC, adding that a layer of augmented reality (AR) has been added to have consumers experience the product on a multi-sensory level.
From today until the second week of November, the brand will have 13 static and digital branded boards in the square, with four of them containing AR triggers, for its Greyhound cocktail. The placement was led by Vizeum with Isobar (in conjunction with TBWA New York) on the creative. This is the second time that a brand has layered augmented reality within ads at the square (the first was done by Volkswagen this time last year).
For the Absolut campaign, consumers are invited to download the brand's app (created by Nova Scotia-based Ad-Dispatch) and experience the Greyhound product through animations on their smartphones and take part in activities such as creating a music track, race a virtual Greyhound dog against others in the square or view real-time tweets and Facebook posts about the brand.
Bhowmik notes that Absolut's AR stunt is unique in that it does not have a pre-determined experience for each consumer, "you can choose a different activity and each experience is unique to you and customized to you," he says. "The results of the engagement are driven by your input."
"We like to stand out and we have a very strong perception in the market as being a very different and creative brand," he says of the campaign that is targeted to 25- to 34-year-old men. "This campaign is about bringing creativity to cocktail culture, and celebrate the cocktail in ways that other brands haven't. Where other brands may say 'you can make a cocktail by adding these three ingredients,' we say that cocktails are about moments and experiences."