New York Ad Week: Goin' mobile
MEC execs talk about the major impact of mobile, and tell advertisers to think of the platform as their first screen at the IAB Mixx conference.
Another vision of the future of creativity was shared at the IAB MIXX conference, where MEC execs Melanie Varley, chief strategy officer global, and Andy Wasef, head mobile and emerging platforms North America (pictured, left), presented "The Only Way to be Creative is to be Mobile."
Touting mobile's unique attributes – touch, location, motion, intimacy, immediacy – and its growing scale with almost a billion smartphones globally, the MEC execs advocated a mobile-first strategy for brands. Pointing to the growth of mobile-first countries (where it's already leapfrogged fixed line service), other drivers like m-commerce and mobile-first businesses, plus faster, better, cheaper devices as 4G and LTE roll out, Varley and Wasef stressed that advertisers and agencies should better understand the role mobile plays for their biz.
Whether it's used to kill time, save time or primetime (people are now consuming 4.5 hours a month of long-form content on mobile devices), the message was "use mobile to humanize your digital experience."
Citing research that shows a better digital experience (decluttering) delivers twice the sales, Varley and Wasef say mobile will revolutionize the wider digital space due to the fact that design for mobile inherently has to be different, especially with the next wave of phones being more intuitive and intelligent. Beyond Siri, next-gen capabilities mentioned included the Samsung Galaxy that takes 27 pics and chooses the best, and that phones can learn your sleep patterns for snooze alert tweaking or mine calendars, maps and traffic data to let you know when to leave for an appointment.
As mobile is creating new consumption habits and becoming the first screen at home, Varley advises advertisers to "think about mobile as your first screen," adding that it will change how you think about marcom possibilities. MEC's reasoning supporting this directive is the fact that it's the first and last thing many people check during their day now,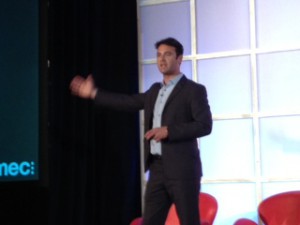 and that on average mobile users are checking wee (or not so wee) screens every 6.5 minutes – meaning that info, purchases and friends are now a "one-second-away relationship." With voice not even in the top five of usage now, the phone part of smartphone behaviour has definitely been surpassed.
Wasef spoke to the retail impact, and that with 50% having used mobile in-store for price check or purchase purposes, smart retailers like Walmart and Tesco in the UK, are developing mobile strategies – navigation, access, CRM, enabling price-checking within a radius – to take advantage of the new reality, which MEC execs describe as both a threat and an opportunity to capture displaced attention. Wasef describes the potential of integrating customer touchpoints through mobile as unique, in that it can touch every step of the consumer journey.
After the presentation, when asked if agencies are ready for thinking mobile-first, Varley says "I don't think so, yet," explaining that's the reason MEC developed the presentation – "to help us get ready and help clients get ready." She adds that mobile renaissance advocacy is working already, and that since sharing their deck with clients, MEC has been asked to develop mobile-first marketing approaches.
On the topic of organizational process and people impact, Varley says there's two things needed: people with mobile skills, which the agency is working on across the top 20 countries, and that behaviourally, a mindset change has to happen, which requires people like Wasef who are evangelists.
As to which type of agency – AOR, digital, media, mobile – is best positioned to lead the mobile-first charge, Varley says that it will likely follow a similar pattern of osmosis. "We saw digital agencies evolve and become part of holding groups, we've seen that with social, and I think that will happen with mobile (GroupM has Joule, a mobile agency)." While the executional skill set lies with digital, Varley sees media stepping up as it becomes a lead strategic partner, since media agencies can then integrate mobile across all areas of brand activity, from social to sports marketing.
Beyond the investment in internal resources and education, Varley says, "we're getting so used to new things coming and changing and evolving, that media agencies are more comfortable with change." She adds that mobile's new role in the marketing mix could get agencies back to the Mad Men days of being a trusted advisor to clients. With a caveat: "if we do it right."
Speaking at the closing session of IAB's MIXX conference, digital entrepreneur/venture capitalist Marc Andreessen also addressed the bigger opportunity for mobile, saying that "with mobile we're going to know twice as much about people," and noted that there are four billion more people worldwide who will trade up to smartphones in the next few years. Andreessen described smartphones as "becoming the control devices of our lives," adding that with products like Nike Fuel Band, Google glasses and an assortment of yet-to-be-invented consumer devices that he believes we will ultimately wear, "smartphones will be the hub for that as well."
Describing software as e-marketing, he envisions a world with "lots of programming, very sensible, very logical." Andreessen says the industry is now at the tipping point of smartphone and social media convergence, and that marketers and agencies are not taking advantages of the opportunities, with "most of the ad money trapped on the wrong side of the media revolution."
Facebook COO Sheryl Sandberg, speaking at the same session, says she thinks the future will be about realizing the potential of real people connected, and that we're just "at the very beginning of what it can be."