CBC's Dragons' Den launches real-time social engagement
iPowow! Canada has partnered with the CBC to introduce an armchair Dragon that allows viewers to engage with the show via their mobile device, tablet or PC.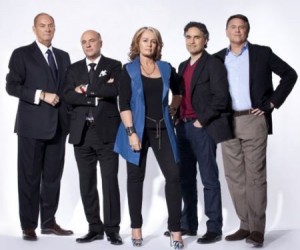 The CBC has embraced second-screen engagement by pacting with iPowow! Canada to introduce an armchair Dragon into the den.
As would-be entrepreneurs on Wednesday night pitched Dragon millionaires, for the third week running viewers at home visited CBC.ca/dragonsden and played along with the show via their mobile phone or laptop computer.
And in real time, the audience reaction to entrepreneur pitches and the judges' verdicts were displayed back on the TV screen.
Colin Hornett, executive producer, North America at iPowow! USA, pointed out the obvious: Dragons' Den is a taped show, and not a telecast of a live sports event or awards show, which is a natural for real-time social media integration.
So iPowow has producers in five different time zones push questions and new show content to viewers for social engagement, enabling the call to action to come via the second-screen devices.
"We've constructed it so there's a clean feed for every time zone, and questions are pushed to a device, and not the TV," says Hornett.
Multiple Media Entertainment's Michael Taylor, who heads up iPowow! Canada, said most Dragons' Den viewers have a second screen device, so there's an opportunity to rejig the reality show to include an armchair Dragon.
iPowow! Canada uses an interactive digital platform developed in Australia and licensed from iPowow!
The technology enables broadcasters to secure audience feedback in real-time, with the responses aggregated in the clouds and then returned digitally to broadcasters and their audience.
The seventh season of Dragons' Den is sponsored by Ford Canada and Scotiabank.
From Playback Daily