Spotted! Tristan fashions a carousel show
The retailer has dressed up mannequins and is holding impromptu fashion shows in Montreal's Trudeau airport to promote its line of business suits.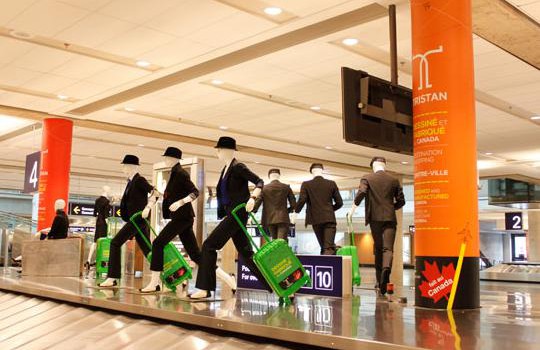 At Montreal's Trudeau airport, there are several luggage carousels dressed to the nines with mannequins sporting fashion retailer Tristan's new line of travel suits.
The installation is meant to increase traffic to the brand's stores and based on the attire, the airport is a fitting location for Tristan to target the group of 25- to 45-year-old business travellers from "young professionals entering the workforce" to "fashion-savvy corporate types," Marine Godfrey, brand manager, Tristan, tells MiC. The "Travelling with elegance" installation was developed by Astral Affichage in conjunction with the brand's in-house creative team.
On Sept. 26, when the airport display launched, the brand also conducted an informal fashion show. Six models were seen strutting across the airport terminal in the travel suits with brightly colored suitcases to match the installation (several more shows are slated to occur sporadically during the brand's three month presence at the airport). The stunt not only heightened the impact of the displays, says Godfrey, it also managed to capture the attention of entrepreneurial reality show Génération Inc – with the series producing a small segment on the stunt to air on V Tele.
"Traditional advertising has never been a priority for Tristan, [because it] just doesn't have the impact it used to in an environment where we are constantly [being] bombarded with advertising," she says. "The displays are strategically positioned in areas where potential customers have nothing else to do but stand around and wait. [It's] interactive in that it goes beyond the two-dimensional, but it's not aggressive."