Seevibes launches social media geo-targeting tool
The Montreal-based metrics firm says the feature of its new TV Dashboard precisely pinpoints social media location clusters of program audiences.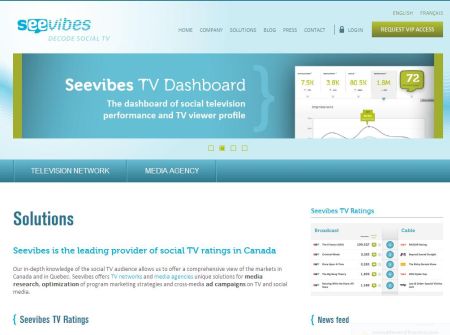 Montreal-based social media metrics company Seevibes has launched a new product that includes a tool that it says precisely pinpoints the location of clusters of social media hits about programs.
Called the TV Dashboard, Seevibes says it was developed with the help of Harvard researcher Philippe Bouzaglou, who played a key role in the creation of the social graph that formed the basis of Facebook's relationship system.
Laurent Maisonnave, president, Seevibes tells MiC that the first tool, launched earlier this year at the Banff World Media Festival and called Seevibes TV Ratings, provided a free overview of the market for anyone to see. The Seevibes TV Dashboard, however, provides a more detailed view of the social performance of 3, 10 or 100 different shows in Canada at a premium price.
The TV Dashboard platform filters, collects, qualifies and organizes social TV interactions that happen over the course of the week and is then integrated into customized reports, says Laurent, adding that the technology is also able to identify the gender and geographic location of the social TV audience.
The tool is intended to provide the Canadian media industry with "the most accurate portrait possible of its viewers" and can help broadcasters get more value out of their program development budgets in response to consumer interest, he says.  Cossette Communication and V/Remstar are the first use the new platform in Canada.
From Playback Daily, with files from Jennifer Horn