Pizza Hut goes to the dogs
The Yum! Brands chain is bringing Hot Dog Stuffed Crust Pizza to Canada with a TV-centric campaign.
After being introduced for a limited time in the UK earlier this year, Yum! Brands-owned chain Pizza Hut Canada has brought its Hot Dog Stuffed Crust Pizza here until the end of November.
The dish is being promoted with a TV and social media-focused campaign with creative from Grip and media from MediaCom centering on the idea of the two worlds of hot dogs and pizzas colliding, Beverley D'Cruz, director of marketing at Pizza Hut Canada, tells MiC.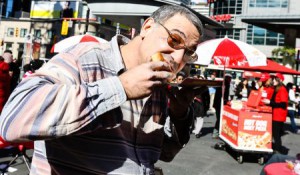 Targeted primarily at men aged 18 to 24, the TV campaign which features a hot dog vendor colliding with a pizza delivery person, hits on Oct. 22 and runs for six weeks, says D'Cruz. TV spots will be shown across the top 20 Canadian programs to get mass reach and will be supported with Facebook activations. A launch event, in conjunction with the brand's PR agency Strategic Objectives, was held last Friday in Toronto, with 2,000 slices of the pizza being distributed through hot dogs stands at Yonge-Dundas Square.
The Hot Dog Stuffed Crust Pizza comes with Heinz Ketchup Dip and Heinz Honey Mustard Dip and is the same price as a regular stuffed crust pizza from the chain.