Spotted! Tourism BC creates a ski scene
Winter arrived early in Toronto last weekend, with the tourism co setting up an installation that recreated a winter experience using snow, wind and the smell of the outdoors.
Tourism British Columbia jumped the gun on winter last weekend, placing a virtual ski slope in the heart of downtown Toronto for people to showcase their ski skills. The objective for the experiential component of its "Ski it to believe it" campaign was to interest people in all that the western province has to offer, Karen Kasprick, marketing communications, Tourism British Columbia, tells MiC.
The mobile installation recreated the ski experience and used snow, wind and the scent of the cold outdoors to create a real-life winter scene while participants competed in a virtual ski race. Pedestrians were invited to take part in a "Ski BC Challenge" and for the chance to win ski lift tickets or a BC prize pack. Olympic gold medalist Ashleigh McIvor was also on-site signing autographs and competing against others in the ski race.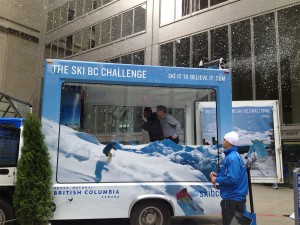 The three-day stunt was developed by Citizen Optimum and took place in the business district of Toronto to reach adults age 35 to 55, skewing male, says Kasprick. On the third day, the executions took place at Toronto Ski, Snowboard and Travel Show in an effort to reach the tourism co's secondary audience, families of all ages.
The company is also promoting its winter offerings with an online and mobile buy, handled by Jungle Media with creative by Dare Vancouver. "The heavy lifting of the campaign is the online effort," Kasprick notes, adding that the ski campaign has run since 2005 but that this is the first time mobile ads will be included. "We did [mobile] for the spring/summer campaign and it proved to be successful so we decided to introduce it into the ski campaign. Our target market is getting savvier with their smartphones, they're on-the-go and they're busy. We want to make sure we're adapting to trends and being where consumers are."