The Globe and Mail rolls out paywall plans
Called Globe Unlimited, the digital subscription service hits next week across the company's digital properties.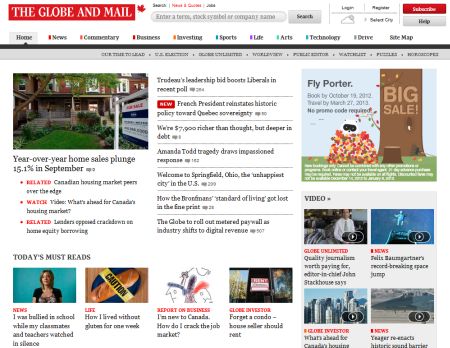 The Globe and Mail has laid out plans for its digital subscription service, which is slated to roll out across its online and mobile properties next Monday.
Called Globe Unlimited, the plan will allow casual users to view up to 10 pieces of Globe and Mail content per month, including articles, videos and other features. After those 10 articles, users will have to subscribe to Globe Unlimited to view additional content. Subscriptions to the online service will be 99¢ for the first month, after which it will cost $19.99 per month. Globe Unlimited will be available at no additional cost for five-or six-day print newspaper subscribers, according to a release from the Globe and Mail.
Subscribers will have access to exclusive content, including Dashboard, a personalization tool that is currently in beta mode; a revamped Streetwise column that provides details on financial developments throughout the day; and ROB Insight, a new feature that will provide details on business stories developing that day, according to the release.
Andrew Saunders, VP advertising sales, Globe and Mail, tells MiC the new Dashboard feature will allow users to select certain companies or industries to follow and receive pings when there are stories in that area. Stories from those selected interests will be built into one environment, he adds.
Advertising clients on the Globe and Mail's digital properties will benefit from the increased amount of readership data available, and will have new opportunities to create branded content and greater creative executions with Globe Unlimited, says Saunders.
"We will be looking to add more unique creative approaches, magazine-like experiences," he says. "We are going to be able to participate and create branded content bricks and also measure user behaviour in a greater way and tailor ads."
Saunders says that the media co doesn't expect there to be a dip in unique visitors to the Globe and Mail's site (an average of 3.9 million per month from January to March, according to ComScore), but adds there might be a slight dip in overall page views (an average of 128 million a month from January to March).