Toronto Crime Stoppers targets potential gas stealers
Mug shots of ordinary citizens are being used in the creative for the organization's campaign to create awareness against stealing gas.
Canada's honesty system faltered last month when a station attendant was killed after a gas-and-dash in Toronto. Crime Stoppers recognized the importance of bringing the criminal act of stealing gas to light several months before the fatal attack, having approached DDB and Michael Communications to execute a targeted awareness campaign in stations across Ontario.
For an undetermined amount of time, mug shots of fictional gas theft suspects will grace gas pump toppers and window frames of Mac's convenience stores within participating gas retailers. Lorne Simon, chief of public relations, Michael Communications (which handled the media placement), tells MiC that print advertisements in the Toronto Sun will spur additional mass awareness and "down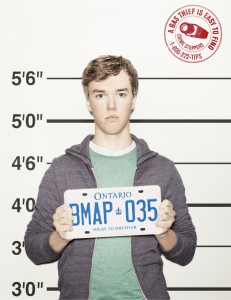 the road, we'll look at digital OOH and transit shelter ads. Right now it's only in Ontario, but I'd say in the next three or four months it will go national."
Back when pay-on-the-spot wasn't an option, and people were only able to purchase their gas at counters, getting away with stealing gas wasn't as easy as it is today, says Todd Mackie, creative director, DDB Canada. "With pay at the pump technology it's often too hard for a potential witness to know if someone has paid or not, so asking people to spot the crime and give a tip didn't seem as relevant," says Mackie, adding that the approach for this campaign is much more targeted to reach potential criminals. "Instead we wanted to remind people considering committing an offence, that gas theft is a crime and that they will be caught," he adds.