BC Hydro shines bright to save light
The organisation promotes its "Power Smart Month" initiative with a TSA stocked with incandescent and LED light bulbs.
A new ambient transit shelter piece designed and placed by Smak Media and Promotions on behalf of BC Hydro gives standard street lights a run for their money.
Seen only on Vancouver streets, the shelter installation displays 20 incandescent and one LED light bulbs barricaded within a translucent shelter wall. The effort is meant to show that "Energy Star LED lighting lasts 20 times longer" while driving viewers to the BC Hydro Power Smart website. October is BC Hydro's "Power Smart Month" and has so far been supported by a slew of traditional media and experiential activities.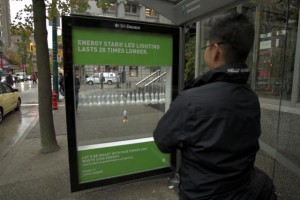 Smak was the creative and media brains behind the project and Jeff Berry, director of client relations and partner, Smak, tells MiC it's a prime example of how "taking a transit shelter beyond its traditional format and being innovative does not have to be expensive."
"Ultimately it was about the balance of creative and media," Berry says of the installation which he believes is share-worthy with a higher likelihood of people seeing the creative, talking about it and remembering its "Power Smart" messaging. "We felt it would best bring the creative idea to life while also being impactful and responsible with our client's budget. When all costs, including creative and production, were taken into consideration we were able to deliver efficiencies equal to a mass GRP campaign."