Carlsberg Canada leaves Toronto FC
The brand says it is pursuing other avenues and the league will announce its new beer sponsor at the start of 2013.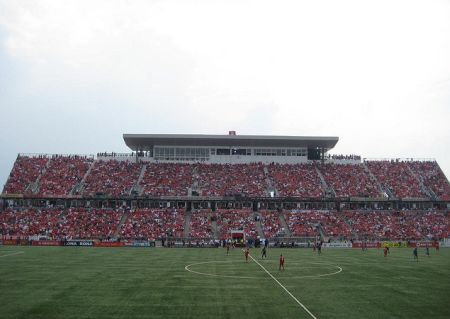 The conclusion of Toronto Football Club's 2012 season has been coupled with the end of its six-year partnership with Carlsberg Canada. Yesterday, the brand bid adieu to the professional sports club, announcing that it will no longer be the official beer sponsor of the team.
"We will have a new partner in the alcohol category," Rajani J. Kamath, director of corporate communications, Maple Leaf Sports and Entertainment (owner of the Toronto FC), tells MiC. The club's fiscal year runs until the end of December, and in the New Year it will announce the name of the replacement beer sponsor, she adds.
Going back as far as the late 1980s, Carlsberg has supported soccer through various major international sponsorships. Soccer is a part of the brand's DNA, says Nick Relph, director of marketing, Carlsberg Canada. "But we recognize that the interests of the Carlsberg fan go beyond soccer," he explains. "We couldn't have been happier supporting MLS soccer for the last six years, but six years is quite a long time with respect to major title sponsorships."
The move does not mean the end of Carlsberg's involvement with soccer though, says Relph. "Here in Canada, we're looking for ways to expand our opportunities with new, premium partnerships," he says, further adding that Carlsberg recently embarked on a three-year partnership with ski and active lifestyle apparel brand Spyder Active Sports, and that the two will soon conduct cross-promotions on slopes in Canada and in the US. The audiences of both brands attract and align with each other, says Relph, adding that the collaboration with the apparel brand enables Carlsberg to reach a male audience between legal drinking age and 25 years old.
Relph adds that Carlsberg will continue to further expand the relationship with its target consumer through a variety of different channels, and will soon be making a major announcement regarding the global Carlsberg team.
Conversely, the Toronto Football Club reaches a slightly older demographic, typically men aged 25 to 34, notes Kamath. She adds that the club is always in search of new advertisers in both unfilled and emerging categories. "Our season ended yesterday, so technically we are in our off-season. We're looking at new opportunities to bring sponsors on board and introduce them to our soccer brand," she says, adding that beyond the standard in-stadium advertising, there are also ways to be creative with sponsorships. She uses Kia as an example, where the brand refurbished Toronto city-owned soccer pitches that were in dire need of restoration as a part of its "Drive change" initiative.
Photo: Ltdan, Flickr Creative Commons.