Penguin Canada gets fresh
The publisher aims to attract some shade-y fans with its latest OOH and print campaign.
The temperature in the book world has been higher than normal lately, with the red hot success of the Fifty Shades of Grey trilogy. Penguin Canada has launched a campaign that aims to cash in on some of that popularity, running cheeky OOH and print ads promoting the second release in its own erotic trilogy, Sylvia Day's Reflected in You (the first in the series is titled Bared to You).
With taglines like "Our Readers Come First" and "Pleasure Yourshelf," the campaign, with media and creative done in-house, is targeting women over the age of 30 on TTC subways and on GO Train video boards at Union Station in Toronto, Beth Lockley, executive director of marketing and publicity for Penguin Canada, tells MiC.
"Discoverability is one of the toughest things in our business, we are always trying to get in front of readers and break out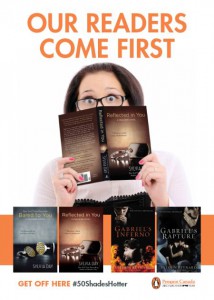 from the noise," she says. "The creative in this campaign is a departure from the tone you normally see from publishers in Canada, which I find tends to be more conservative. Toronto is an important market for us. It is often where we will start, and then take it to other markets based on results there. Subway ads in general work well for us to market books, and particularly this series. It is a captive audience, we use them a lot for commercial fiction."
In addition to OOH transit ads, the book is also being promoted with print ads in Hello! Canada. The media spend for this campaign is one of the biggest for the publisher this year, to gain audience share for the already popular series which has shipped over 270,000 copies so far, adds Lockley.