Ubisoft goes big for Assassin's Creed III
The game maker explains the two-phase multi-platform campaign, and what it swapped for its usual hockey TV spots.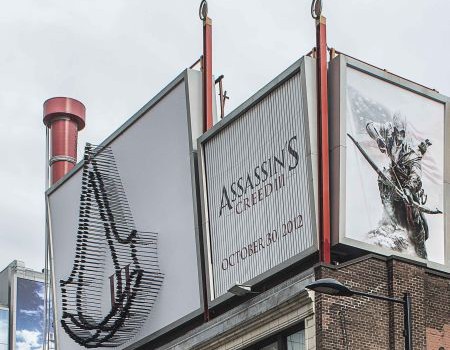 Ubisoft Canada is going big for the launch of Assassin's Creed III with a two-phase campaign. The first phase rolled out in March to boost pre-orders of the game (it became the most pre-ordered game for the company) and a second phase is hitting TV, digital and OOH for the game's launch this week.
With media by ZenithOptimedia and creative from Publicis, Philippe Tremblay director, planning and digital strategy, ZenithOptimedia, tells MiC the game is targeting males 18 to 34. A hiccup in the second phase of the campaign this fall came when the TV ads, usually placed during NHL games, needed to find a new home.
"The next highest TV shows to reach the target were around specialty channels like Teletoon, and conventional slots like Global TV's Sunday night lineup," says Tremblay.
The campaign also includes OOH ads in Toronto's Yonge-Dundas Square, with creative inspired by the game's use of arrows and its iconic logo, which Tremblay says is very popular with its fans.
In addition to those elements, Ubisoft also created a series of videos featuring NHL player Maxime Talbot doing things like shooting a puck out of the air with a bow and arrow to help stand out from the pack of games that are released this time of year. Those videos have been placed on YouTube and Facebook.
"TV still works and still provides great results in terms of sales," says Tremblay. "It offers the ability to transmit emotions through visual and sound. Web is the second layer because the target is enthusiastic about the platform. In Canada the gamer press isn't as big as in the US, so there is less choice there. OOH was to get mass reach and build excitement."