GameTV broadens its scope
The channel has launched a robust consumer campaign and is looking to appeal to brands across a variety of sectors.
GameTV is dressing parts of Toronto's underground subway system and the above-ground transit shelters with posters and wall murals to target commuters, and reinforcing its messaging with television spots to reach them when they're back home.
The channel's new campaign launched yesterday, three weeks after it announced a revamped look and repackaged programming. Gary Sappleton, who joined the channel as its senior director of marketing at the time of the rebranding, says in light of the changes made to its TV offering, having added more movies, reality programs and game shows to reach a broader audience of adults 25-to-54, the brand chose mass media to reintroduce itself.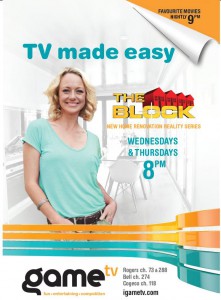 "This is one of our most robust marketing campaigns we've done, and from a mass communications standpoint, we really just wanted to raise  awareness and let people know that we're here and that we've relaunched," he says, adding that the creative (developed in-house) was placed by Magi Communications.
Sappleton says in addition to the television and outdoor advertising, print dailies are also being used to reach people travelling around the city. Banner ads are running alongside the game sections in Metro and 24 Hours to tie the brand to the content, he says, and half-page insertions with visuals from its reality series and movies are being placed in the lifestyle and entertainment sections of the newspapers as well. The television spots will run across Rogers channels (including A&E, CNN, Spike, Peachtree, TLC and AMC) as well as Bell stations (such as CNN, TBS, TLC and FoxNews).
The majority of the creative in the campaign is focused on home renovation series The Block and classic game show Family Feud because those shows best communicate what the brand stands for, which is "fun and entertaining competition," says Sappleton. "We've enhanced our schedule with much wider and appealing programming. And we've done our best to create a brand with [shows] that appeal to advertisers looking to reach a broader audience."
Before the rebrand, GameTV attracted a limited scope of advertisers, mainly fast food and automotive, he says, adding that it's now seeing more brands in the lifestyle, consumer packaged goods and financial sectors running their ads on the channel.