Sportsnet petitions for the love of hockey
The sports channel played an impromptu game of hockey inside a Toronto mall to promote its online petition to bring back the game.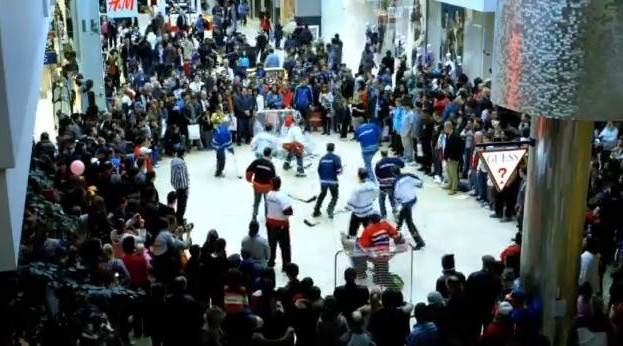 The unrelenting dispute between the NHL and NHLPA has become a daily vexation for some hockey fans. Frustrated sports patrons have turned to the airwaves to vent, calling up radio hosts on Sportsnet The Fan 590 to ask why the fans are being ignored. The call-ins ignited the media company to launch a "We Love Hockey" petition that respectfully asks the players in question to "bring back the game we love, that you love, that Canada loves."
The Facebook-housed petition talks about the fans' faithfulness to the game and how they want the quarrel to end. The signed declarations will be presented to the NHL and NHLPA on Nov. 2 when the league is deadlined to come to an agreement to play a full 82-game season. Since launch, the petition has received close to 10,000 signatures from fans, Paul Brousseau, senior director of marketing, Sportsnet, Rogers Media, tells MiC. He adds that the intention is to "remind the two different sides debating with each other that there is a group of fans in the background that really care about the sport."
To rally troops to support the cause, Sportsnet has run promo spots on its television property, executed homepage takeovers of its website, and last weekend it visited Toronto's Yorkdale Mall to surprise shoppers with an impromptu game of indoor hockey. "Most of the dialogue around it has come from our on-air personalities though," adds Brousseau. "If you work at Sportsnet, you're a hockey fan. So, they're the ones that have talked about it [on-air] the most and where a lot of the awareness has come from."
Brousseau notes that during the strike, Sportsnet has stimulated the dialogue with fans through its radio channels, website and social media platforms. "We're constantly talking about the lockout and hockey [on those channels] and I think that's the main way that our passionate fans engage with us," he adds.
If it weren't for the lockout, Sportsnet would have aired 30 NHL games during the month of October. It's relied on alternative sports content, such as the World Series, to sustain viewership and has so far tracked positive numbers. Compared to last year's baseball season, the channel has seen a 13% audience increase for the 2012 season (averaging 776,000 viewers, up from 686,000), according to BBM Canada numbers provided by Rogers Media.