Honda Dealer Association takes top spot: Media Monitors
The auto association made Toronto's largest radio purchase, while Canadian Tire was tops in Montreal for the week of Oct. 22 to 28.
The Honda Dealer Association jumped seven spots up from its previous position on the Toronto Media Monitors chart, and landed in the #1 spot for the week of Oct. 22 to 28.
Chevrolet debuted at #2 on the list, knocking Pizza Pizza to third place. Other new entrants include Corona Extra at #5 and the Royal Agricultural Winter Fair at #9.
Rogers Wireless spent a larger-than-usual amount on radio advertising, jumping from #100 to the #7 spot on the list.
In Montreal, Canadian Tire snagged the top spot (up from #6) and E! Entertainment Television debuted at #2. Rogers Wireless also made a noteworthy purchase in the French region, having jumped from #54 to #3.
And Lowe's entered the chart at #10 for the week.
Toronto
By brand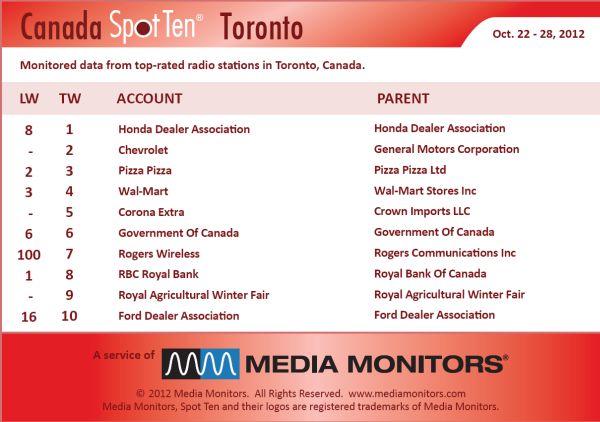 By category
Montreal
By brand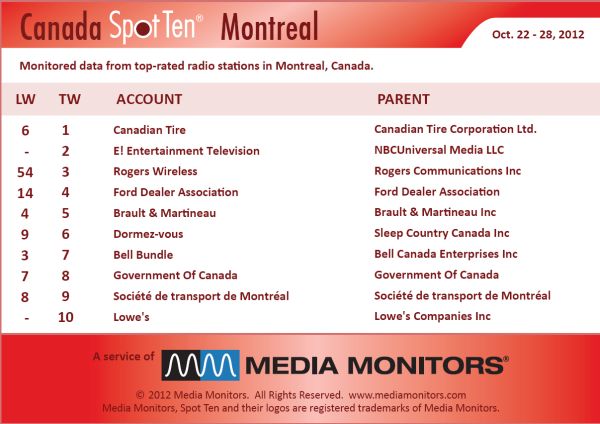 By category