Microsoft launches Ads in Apps, industry responds to Do Not Track
Reps from Xaxis and Maxus voice their concerns regarding DNT in IE10, and information on where Canadian clients can place ads in Microsoft Windows 8.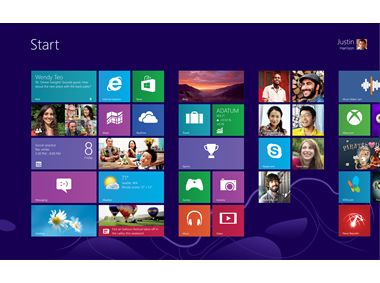 Cadillac, WestJet, Rogers, Nissan and Scotiabank have signed on to incorporate their marketing messages within Microsoft Windows 8 apps in Canada. There are another 20 brands and publishers working with the company in other countries on the apps, which include Bing, Xbox and Skype.
Joe Strolz, VP of sales at Microsoft Advertising, likens the new Windows operating system (which launched at the end of October) to a glossy magazine with large images, bright colours and headlines. Within the digital environment, there are apps for content such as news, weather, sports, travel, video, games and music. "When you're in one of the environments, the consumer's experience with advertising is topically relevant to the content that they're consuming," says Strolz. "So, if you're in travel, you'll see an ad for WestJet, and if you're in sports, then you'll see an ad for General Motors."
A vast majority of the current advertising campaigns (or "Ads in Apps") include "tap to full screen video and a path to web," says Strolz, adding that advertisers have opted to use video primarily because they already have the creative assets to incorporate within the ad. There are opportunities to place standard ads in the app browser, and there are also rich media ad units that allow mobile users to rotate the brand's image by repositioning the tablet in their hand. Strolz uses the example of a car ad, whereby a virtual showroom can be created and consumers can view all sides of the vehicle as they tilt the tablet back and forth. "There is also a huge degree of interest in taking that experience and doing something a bit more integrated with more of the different properties and environment."
"Our strategy in digital and advertising, in publishing and in digital media content, all [goes] back to a consumer-first philosophy," notes Strolz. This consumer-centric viewpoint also translates into Microsoft's new Internet Explorer 10 (the web browser that comes with Windows 8), in which the company has set the anti-monitoring "Do Not Track" function as a default.
In 2009, the DNT policy was initiated in reaction to the issue of privacy when it comes to advertisers tracking and aggregating personal data for use in online targeting. Other internet browsers such as Apple's Safari and Mozilla's Firefox support the DNT function that allows people to choose whether or not they want to be tracked by third party websites. However, Microsoft's decision to automatically turn the function on as a default has been met with resistance from the advertising community in North America. Yahoo has turned a blind eye, stating that it will not adhere to the anti-tracking messages sent to the publisher. And advertisers have appealed for Microsoft to reverse the action that has disrupted its efforts to provide more relevant advertising for the consumer through online targeting.
In line with Microsoft's mandate to put the consumer first, Brad Smith, general counsel and executive VP legal and corporate affairs, wrote in a recent blog post that the decision "reflects what our customers want: 75% of the consumers we surveyed in the U.S. and Europe said they wanted DNT on by default."
However Rodney Perry, managing director, Xaxis Canada, and Darren Hardeman, managing director, planning and digital, Maxus, tell MiC that the decision to have DNT as a default detracts from consumer choice as it was made on behalf of the consumer, rather than by the consumer.
"It's not that we don't want DNT in place, we want it to be done in a transparent fashion and as a consumer choice, not as a technical choice made by a company," says Perry. "From a consumer privacy point of view, most will say no [to tracking] because it sounds like we're hunting them down, but consumers don't fully understand how it runs and how it [provides] more relevant and contextual ads." He adds that the industry requires better consumer education on the impact and benefit of tracking.
Large media companies and social networks will likely benefit the most from this as they have their own first-party databases (acquired from consumers when they agree to a privacy agreement before signing up to use its services), says Hardeman. "It will definitely have a drastic impact on the competitiveness within data sets," he notes. "So, you are going to see a decrease in the volume of smaller players out there selling the various segmentation and data that they provide."
"It's giving those major players more power and less to the small publishers," adds Perry.
"With online tracking, consumers get the benefit of free content and ads that only make sense to them," he says. "As this [automatic opt-out] goes through there is the potential for more online advertising in the space to turn into spam advertising where advertisers don't know who you are and just bombard you with messages, which is not good for the consumer."