Spotted! HuffPost's large format app
Several giant tablets have been placed in transit and shopping destinations for pedestrians to test out the site's new Microsoft Windows 8 app.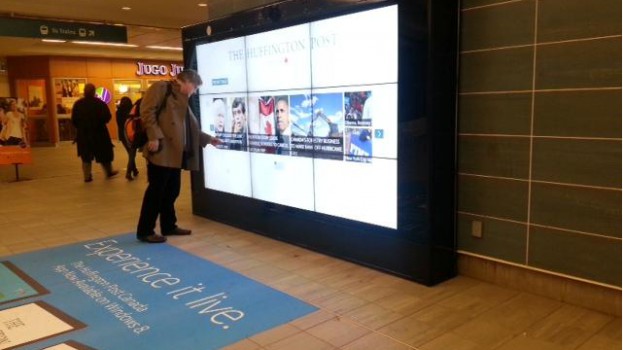 In train stations and malls in Toronto, Vancouver and Calgary sit oversized tablets intended to drive trials of the Huffington Post's new app in Microsoft's Windows 8. The goal of the digital installation is to showcase the app's interactivity (where people can swipe and touch different parts of the large screens) and to demonstrate that the app is accessible on mobile devices, Laura Pearce, director of marketing, AOL Canada, tells MiC.
The discussion behind creating a life-size tablet began during the early summer months, says Pearce, when Microsoft first approached AOL-owned HuffPost to build a news application. Starcom MediaVest was charged with developing an execution that would allow consumers to experience the app through touch to get a sense of how to navigate it, she adds.
"One thing that's important to us is to show HuffPost as a three-screen experience," notes Pearce. "We're showcasing content that people are engaging with right now, like the US elections. It's really an important time for news and we're showing how HuffPost is one of the top tier properties delivering that."
HuffPost chose Toronto's Union station (as well as the city's Eaton Centre, which will see another installation go up next to the Microsoft pop-up store mid-November), the Calgary South Centre Mall and Vancouver City Centre subway station because of their heavy foot-traffic, says Pearce. The installations in the Western Canada provinces are also meant to increase awareness of HuffPost BC and HuffPost Alberta, which launched earlier this year, she adds.
Some pedestrians who recently came into contact with the installation were documented on camera, says Pearce, and the footage will soon be incorporated into several AOL Devil ad units. The 45-second footage will run across AOL sites over the next few weeks and the installations will remain in the shopping and transit areas until the end of the month.