Rogers speeds up the tempo
For its holiday campaign, the media company is running a string of radio ad inventory to create a single, shortened commercial break.
Speed advertising appears to be a new trend. We've come across campaigns with seven second television spots, and now Rogers is introducing its own take on shortened marketing with the launch of 30-second radio commercial breaks.
After choosing to promote its LTE internet services during the holiday period (for the first time), the company approached media agency OMD to come up with contextual placement of its new "The Experience of Speed" creative (which was developed by Publicis), Shelagh Stoneham, senior VP, marketing communications, Rogers, tells MiC.
Playing off of the theme of revolutionary speed, the brand purchased multiple spots during a single commercial break on radio stations in English and French Canada, she says. "So it will say something along the lines of 'Speedy commercial break brought to you by Rogers' and then we launch into a 30-second spot," explains Stoneham. "We don't share the space with anybody. Normally there are several spots that run during the break, but in this case, it's just ours."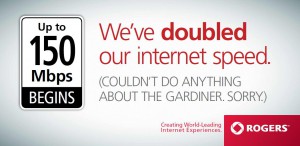 The brand extended the theme to malls and highways with wind machines and apologetic billboards. In the coming weeks, Rogers will visit malls in Canada to demonstrate the "game changing speeds by allowing Canadians to feel the speed first-hand when they get up, close and personal with a wind tunnel," says Stoneham. The reactions of consumers who step in the machine will be captured on an HD video camera and shared on social media, she adds. Also, on highways like the Don Valley Parkway and the Gardiner Expressway, billboards have been placed with a speed limit and copy that reads, "We've doubled our internet speed. (Couldn't do anything about the Gardiner. Sorry)."
"We did some things that are innovative. It's not just about revolutionary speed [creative], but also revolutionary media placement to help bring home the whole proposition," she says. "We invested a bit more than we typically do. But I think the combination of innovative media and place-based media we have will make it feel like we've spent a whole lot more than we actually did."
In addition to the radio and outdoor placements, Rogers will also have TV and online creative, as well as print ads in the National Post, Toronto Star, Metro, 24 Hours, and local publications in major Canadian cities. The target audience includes families who want to stay connected with high speed internet that allows them to move from room to room, she adds, and Rogers' sweet spot is the influencer (ages 18 to 24) who's always looking for the "latest and fastest experiences out there."