Red Bull makes Canada its playground
The energy drink company's new app lets users scout local sports and entertainment spots and share their favourite locations, images and videos.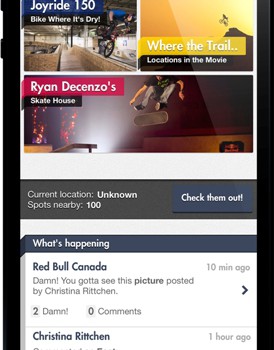 After sponsoring Felix Baumgartner's record-breaking freefall from space in October, Red Bull is coming back to earth with a new app to help consumers scout local sports and entertainment spots across Canada.
The Red Bull Playgrounds app, created with Secret Location, which launched online and on Apple and Android devices Nov. 5, also allows users to connect with friends by sharing content and adding their favourite locations to the map.
Media promotion of the app was done by Touché! PHD, with Red Bull using its own digital networks, including Redbull.ca, YouTube and Red Bull TV to create and distribute content.
Sports publisher SBC, mountain biking outlet Pinkbike and Vice Media, meanwhile, are contributing additional content, including sports and entertainment spots. They also have ads placed within the app.
The target for the app is Canadians aged 18 to 34 who lead an active lifestyle, Lubor Keliar, director of communications, Red Bull Canada, tells MiC. While sports content has tended to skew slightly male, he adds that entertainment content has skewed slightly female.
In addition, Red Bull has enlisted the help of sports pros, including X-Games gold-medallist Ryan Decenzo, to design exclusive spots, which users can track and find on the app. Decenzo, for instance, helped Red Bull create an indoor skate park in Toronto called The Skate House.
"We've been producing events and supporting the leading athletes across snowboarding, skiing and skateboarding, so we have very deep ties to all of these communities," says Keliar.
"What's been missing is a way to capture where these communities play, and a social platform to share the best of spots, as well as images and videos," he adds, noting that the app aims to promote the Red Bull brand and fulfill this need for sports enthusiasts.