ABC changes its name
Joan Brehl tells MiC why the organization has launched a new brand identity, now called the Alliance for Audited Media.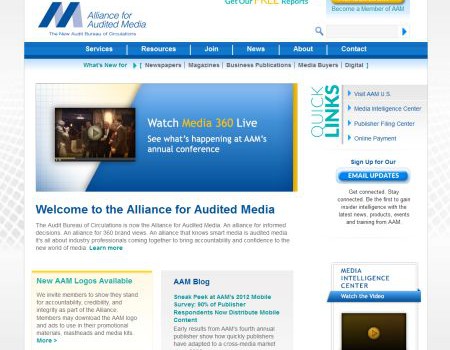 The Audit Bureau of Circulation (ABC) has announced a rebranding, changing its name to the Alliance for Audited Media (AAM) to reflect the changing media landscape, Joan Brehl, VP and general manager, tells MiC.
Brehl says the process of changing the brand's identity took about two years in total, and aims to be more in line with the business of its clients, which no longer deal only in print.
"The name 'ABC' no longer represents the business we are in," she says. "Our members have changed and are no longer only rooted in print and we have changed along with them. It made perfect sense to take a look at the brand and brand name. Media is more encompassing than circulation."
Changes that go along with the name change include a new Canadian website, which features a Media Intelligence Center where members can find audited information and media analysis tools.
Ads promoting the rebranding appear in newspapers including the Globe and Mail, National Post and Calgary Herald today, to spread the word on the news to existing and potential new clients, says Brehl.
The AAM is in the midst of its annual general meeting today in New York City. Stay tuned for a first-person account of events there tomorrow on MiC from Veronica Holmes, president of digital at ZenithOptimedia.