Bell resubmits CRTC application for Astral takeover
BCE topper George Cope says the new deal will address the CRTC's concerns on how the takeover will benefit consumers.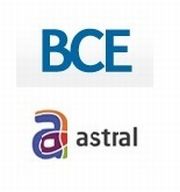 BCE has repackaged its $3.38 billion takeover of indie broadcaster Astral Media, and this time it's not about the phone giant. It's all about Canadian media consumers and content producers.
"We heard Canadians and the CRTC loud and clear – they want assurance that Astral joining with Bell Media will directly benefit consumers and creators," George Cope, Bell Canada's president and CEO, said in a statement Monday.
Details on the new regulator approval application haven't been released yet.
But Cope also apparently heard a consumer-centric CRTC chair Jean-Pierre Blais, who last month rejected the BCE takeover of Astral Media on competition grounds, and is looking to rebuild consumer trust in the telecom and broadcast regulator itself.
And Cope heard Quebec rivals Cogeco and Quebecor Media, which led a successful PR campaign to deny the Canadian phone giant an even larger foothold in the Quebec media market by swallowing Astral Media.
Responding, the rejigged BCE deal calls for Astral Media's French-language TV and radio assets to be led by an Astral team headquartered in Montreal.
To that end, Jacques Parisien, currently Astral's executive vice president and COO, will cross over to Bell Media to manage a portfolio of assets countrywide.
As with the original takeover deal, Astral president and CEO Ian Greenberg will join the BCE boardroom after the transaction closes and his Greenberg family cashes out of the media group it founded just over 50 years ago.
Details of the amended BCE/Astral takeover deal will be unveiled when the CRTC considers the revised transaction.
But BCE said in a statement on Monday that the new deal "addresses the commission's concerns and sets out the steps the companies would take to comply with the relevant viewership thresholds."
The phone giant has also revised its package of tangible benefits to support Canadian film and radio content.
"We're ready to deliver more choice for listeners and viewers, more opportunity for content creators, and more competition for the broadcasting industry," Cope said, departing from strong criticism voiced just after the CRTC denied the original application for regulatory approval on Oct. 18.
To that end, BCE has launched a campaign at Canadiansdeservemore.ca, addressing Canadian consumers.
The site aims for transparency, including an outline of  how BCE's latest proposal for the Astral takeover is different from the first, and how consumers will be affected by the transaction.
From Playback Daily