Spotted! Sport Chek ups its event presence
The FGL Sports retailer sponsored the Sport Chek Face Off over the weekend, and the company's president tells MiC to expect more events in the future.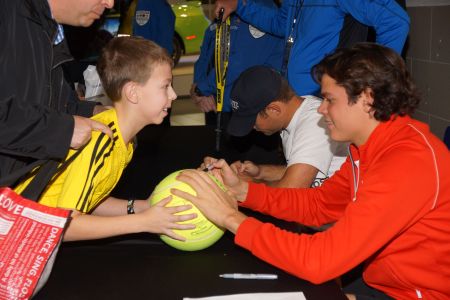 Sport Chek hit the court last Friday, sponsoring the Sport Chek Face Off tennis event which saw top stars like Serena Williams, Andy Roddick and Canadian Milos Raonic (pictured) going head to head at the Air Canada Centre.
Ahead of the event, the FGL Sports company had the tennis stars out to sign autographs for fans at Sport Chek's Eaton Centre location, with people beginning to line up at 5:30 a.m. Michael Medline, president, FGL Sports, tells MiC that the company will be ramping up its event sponsorship from the grassroots to amateur level as it continues to change its media strategy to reach its target demographic of consumers aged 15 to 45.
"This is the first tennis event we have had the opportunity to be a part of," he says. "We are the title sponsor and you get to see our logo everywhere you move. And then the chance to bring in three great tennis players into the store really brought some excitement and a crowd. I like to have these events in the store because it shows our authenticity in the sport. Over the next six months you will be seeing additional events that show our commitment to sports in Canada."
Medline cites a recent amateur hockey event where Sport Chek had young players change the venue of their games to be played at the Air Canada Centre and Scotiabank Saddledome (which normally house the Toronto Maple Leafs and Calgary Flames) for a "Big League Experience."  He says that event got much more publicity than the brand expected, fanning the flames for future executions along the same lines.
Photo credit: Tennis Canada